Follow Your Favorites!
Sign in
to get custom notifications of new products!

Featured Product
Mask of the Other
by Greg Stolze

"Mask of the Other" connects these disparate events, as a group of soldiers plunders the remnants of Saddam's occult weapons program and attempts to engage with creatures of an inhuman mythos... as equals.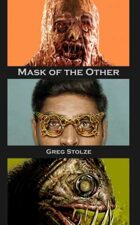 | Products found in this section... | Sort by: |
| --- | --- |
| | | |
| --- | --- | --- |
| Title | Publisher | Price |
| Democracy isn't just a good idea - it's the foundation of the universe all the way down. Ignorance is no excuse for the cops and creeps and exterminators whose desires shaped the world. Knowledge is a little power, a dangerous thing, to the cross-dressers and risk-takers who understand enough to damage the world more to their liking. They all collude and collide on a driverless ride, each... [click here for more] | Greg Stolze | $17.85 $5.00 |
| In 1974, something came out of the sea during the invasion of Cyprus, killing Greeks and Turks indiscriminately until it was bombed into dormancy and entombed. In 1988 a rock band disappeared while filming on an abandoned island-town off the coast of Japan. In 1991, a squad of US infantry was attacked in Iraq by a bulletproof, invisible entity. "Mask of the Other" connects these disparate... [click here for more] | Greg Stolze | $16.99 $5.00 |
| A WORLD IN THE SHADOW OF TITANS Ever since the 1950s, the world has thrilled to impossible heroes... when it's not the plaything of monstrous villains. But however fierce the clashes between Egghead and Lab Rat, or Javelin and Black Marvel, the one thing none of them can do is explain the source or nature of their abilities. Humanity can only watch as powers in defiance of physics... [click here for more] | Greg Stolze | $16.50 $5.00 |
| YOU is a second person novel that puts you in the role of Leo Evans. Leo is disgruntled, middle-aged, unhappily divorced, and a cultist who has developed genuine extra senses and paranormal abilities by adhering to a set of beliefs he freely admits seem preposterous. Join him as he gets punched, kicked, and mystically enjoined to fell hatred for the person he loves most in the world. Thrill to middle-aged... [click here for more] | Greg Stolze | $8.00 |
| Horror, science fiction and fantasy short stories by Greg Stolze, featuring sailing, swordplay, witty rejoinders, emotional turmoil and also the physical kind. Scary Face collects some of Greg Stolze's renowned short work for Delta Green and Unknown Armies along with entirely new works about alien pornographers, teen mothers, sailors, gangsters and nocturnal physicians. ... [click here for more] | Greg Stolze | $16.31 $6.25 |
| THANK YOU FOR SCREAMING compiles years of Greg Stolze's short horror stories alongside other works of crime fiction, fantasy, SF, alleged 'realism' and one piece of award-winning creative nonfiction. It's got vampires in therapy, a 'perfect murder,' and a lonesome robot longing for its original feet. That's without even discussing the works in the Lovecraft Mythos vein, in which a bronze-age grandma... [click here for more] | Greg Stolze | $6.00 |
| This collection of short fiction from Greg Stolze runs the gamut from the horrifying to the disgusting to the actually very funny. Crack its covers for stories about... - A plague of nonviolent zombies - A desperate space craft fleeing the awakened Cthulhu - Deadly new chocolate - Celebrities with chelicerae - A very finicky serial killer - The theory that Earth is another world's Hell,... [click here for more] | Greg Stolze | $17.15 $6.00 |