Follow Your Favorites!
Sign in
to get custom notifications of new products!

Featured Product
Tomes of the Dead: Double Dead
by Rebellion Publishing Ltd
A VAMPIRE IN ZOMBIELAND

Coburn's been dead now for close to a century, but seeing as how he's a vampire and all, it doesn't much bother him. Or at least it didn't, not until he awoke from a forced five-year slumber to discover that most of human civilization was now dead - but not dead like him, oh no.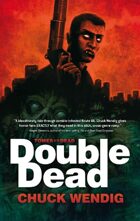 | Products found in this section... | Sort by: |
| --- | --- |
| | | |
| --- | --- | --- |
| Title | Publisher | Price |
| People often say that there are no such things as monsters. They are wrong. Vampires, werewolves, ghosts, and other unnamable horrors co-exist with us. Watching us. Using us. Preying upon us. Welcome to Pinebox, a sleepy little East Texas town with a lot more than its share of trouble. Whether it's the haunted diner luring weary travelers, the unexplained 'alligator attacks", or the crone who just... [click here for more] | Pinnacle Entertainment | $4.99 |
| A decadent rock star. A deeply religious radio host. A disgraced scientist. And a teenage girl who may be the world's last hope. From the mind of Chuck Wendig comes an astonishing tapestry of humanity that Harlan Coben calls "a suspenseful, twisty, satisfying, surprising, thought-provoking epic." Shana wakes up one morning to discover her little sister in the grip of a strange malady. She appears... [click here for more] | Rebellion Publishing Ltd | $9.99 |
| Slices of Fate is a unique collection featuring the works of Eddy Webb. Stories within range from the author's nod to literary tales as in his piece "A Sheepish Trip to Yorkshire" to his more speculative work such as "The Battlefield." Essays include a series on two of Webb's oldest loves: wrestling and Sherlock Holmes. Combined with several pieces of microfiction, this... [click here for more] | FR Press | $2.99 |
| A VAMPIRE IN ZOMBIELAND Coburn's been dead now for close to a century, but seeing as how he's a vampire and all, it doesn't much bother him. Or at least it didn't, not until he awoke from a forced five-year slumber to discover that most of human civilization was now dead - but not dead like him, oh no. See, Coburn likes blood. The rest of the walking dead, they like flesh. He's smart. Them, not... [click here for more] | Rebellion Publishing Ltd | $5.99 |
| For centuries, vampires have lurked in the shadows, preying upon the weak and defenseless. Now, with world population centers booming, the vampires have found rich new hunting grounds. But help is at hand, Vampires: A Hunter's Guide contains all the information necessary to recognize and combat the growing vampire threat. After exploring the origins of these dark and terrible creatures, it examines... [click here for more] | Osprey Publishing | $13.95 |
| This FREE Sampler contains the first 3 chapters of JW Schnarr's debut novel Alice & Dorothy, which will be available June 15th/2011. It also contains 3 bonus stories from his collection Things Falling Apart, which is out now in digital format and coming soon to paperback. Taken from the Back Text of Alice & Dorothy: Alice Pleasance has just killed a man. Later,... [click here for more] | Northern Frights Publishing | FREE |
| This special bundle product contains the following titles. Dangerous Games Regular price: $6.99 Bundle price: $5.47 Format: Multiple File Formats Roll the Bones! In a world ruled by chance, one rash decision could bring down the house, one roll of the dice could bring untold wealth, or the end of everything. The players have gathered around the table, each to... [click here for more] | Rebellion Publishing Ltd | $31.96 $24.99 |
| This excerpt from the Buried Tales of Pinebox Anthology was released for the East Texas University Kickstarter. It contains an iconic tale of East Texas horror by David Wellington, and provides some creepy tone and atmosphere for your upcoming campaign! Included are ePub and Mobi (Kindle) versions of the story. ... [click here for more] | Pinnacle Entertainment | FREE |