Follow Your Favorites!
Sign in
to get custom notifications of new products!

Featured Product
Ack-Ack Macaque
by Rebellion Publishing Ltd
In 1944, as waves of German ninjas parachute into Kent, Britain's best hopes for victory lie with a Spitfire pilot codenamed 'Ack-Ack Macaque.'
The trouble is, Ack-Ack Macaque is a cynical, one-eyed, cigar-chomping monkey, and he's starting to doubt everything, including his own existence.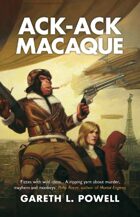 | Products found in this section... | Sort by: |
| --- | --- |
| | | |
| --- | --- | --- |
| Title | Publisher | Price |
| ONCE, TWICE, THREE TIMES A MONKEY Life is good for Ack-Ack Macaque. Every day the cynical, cigar-chomping, hard-drinking monkey climbs into his Spitfire to do battle with the waves of German ninjas parachuting over the gentle fields of Kent. But life is not all the joyous rattle of machine guns and the roar of the engine, as Ack-Ack is about to find out… Because it is not 1944. It is the 21st century,... [click here for more] | Rebellion Publishing Ltd | $9.99 |
| In 1944, as waves of German ninjas parachute into Kent, Britain's best hopes for victory lie with a Spitfire pilot codenamed 'Ack-Ack Macaque.' The trouble is, Ack-Ack Macaque is a cynical, one-eyed, cigar-chomping monkey, and he's starting to doubt everything, including his own existence. A century later, in a world where France and Great Britain merged in the late 1950s and... [click here for more] | Rebellion Publishing Ltd | $6.99 |
| Follow along as Max Mercer, a cunning daredevil with extraordinary luck, leads an amazing group of daring humans known only as the Aeon Society. These heroes travel all over the world to investigate strange phenomena, right wrongs, and protect the innocent. This week's episode: Deadly Eclipse! Who are the Aeon Society? What is going on with the strange eclipse? And what has Doctor Primoris... [click here for more] | Onyx Path Publishing | FREE |