Follow Your Favorites!
Sign in
to get custom notifications of new products!

Featured Product
Partners in Crime: the Novel
by Moonstone

In the final days of WW2, a sinister plan to defeat the allies using black sorcery orig price thwarted, only to be resurrected today in a form even more terrible than before. Now, over six turbulent decades, across multiple continents, and through the darkest alternate dimensions, a force of unimaginable power stands poised to subjugate all of mankind.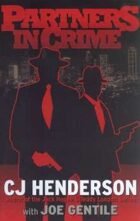 | Products found in this section... | Sort by: |
| --- | --- |
| | | |
| --- | --- | --- |
| Title | Publisher | Price ▼ |
| THIS IS A BUNDLE PRODUCT. WHEN BUYING THIS ITEM YOU WILL RECEIVE SEPARATE DOWNLOAD LINKS FOR EACH PRODUCT LISTED BELOW... The New Hero: Volume 1 Regular price: $4.80 Bundle price: $3.20 Older than the written word and more popular than ever today, the hero story crosses cultures as an eternal constant. The New Hero gathers an unexpected team of... [click here for more] | Pelgrane Press | $12.80 $6.40 |
| An original novel, with spot illustrations, that teams up Kolchak, Johnny Dollar, Boston Blackie, Candy Matson, Pat Novak, Blackshirt, Lai Wan, and Jack Hagee, and Mr Keen all in one great adventure! In the final days of WW2, a sinister plan to defeat the allies using black sorcery orig price thwarted, only to be resurrected today in a form even more terrible than before. Now, over six turbulent... [click here for more] | Moonstone | $2.99 $2.24 |
| Sherlock Holmes Mystery Magazine #1 features fiction by Sir Arthur Conan Doyle, Carole Bugge, Ron Goulart, Marc Bilgrey, Edward D. Hoch, Hal Blythe, and Jean Paiva. Features by Kim Newman, Lenny Picker, Mrs Hudson, and Marvin Kaye. Edited by Marvin Kaye. ... [click here for more] | Wildside Press | $2.99 $2.24 |
| This short thriller is told entirely in phone texts. A group of friends are hiking Mt. Rainier when something goes horribly wrong. At first it seems some members of the party suffered terrible accidents, but as the police recover their cell phones and begin to piece together their text messages, a very different story emerges. For Mature Readers, contains some strong language. Texter was written... [click here for more] | Pinnacle Entertainment | $0.99 $0.74 |