Follow Your Favorites!
Sign in
to get custom notifications of new products!

Featured Product
Edge of Sundown
by Chaosium
Mythos Terror in the Weird West

An anthology of western-HORROR tales, not western-fantasy. No tall tales here, no wink-and-a-nudge-as-it's-all-good-fun safe betting. We're looking to give you the creeps, fair and square, no fooling around.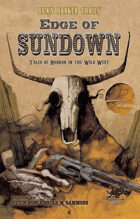 | Products found in this section... | Sort by: |
| --- | --- |
| | | |
| --- | --- | --- |
| Title | Publisher | Price |
| The western-horror story is far older than what most of us would even consider "the west". For generations the American Indians told dark tales of their own, of spider women, skin-walkers, cannibals, witch­es, and thunderbirds. When white men ventured into the west, they learned some of these nightmarish stories from the natives—and they brought or created their own as well: tales told around... [click here for more] | Chaosium | $8.49 |
| The Golden Age of Weird Fiction MEGAPACK™ series celebrates Clark Ashton Smith with 17 of his classic fantasy & horror stories! Included here are: THE ABOMINATIONS OF YONDO THE THIRD EPISODE OF VATHEK THIRTEEN PHANTASMS THE CHARNEL GOD THE COLOSSUS OF YLOURGNE THE CHAIN OF AFORGOMON THE BLACK ABBOT OF PUTHUUM THE VOYAGE OF KING EUVORAN THE MAZE OF THE ENCHANTER THE DOUBLE... [click here for more] | Wildside Press | $0.99 |
| "The Mad Scientist Megapack" assembles 23 tales of Scientists, their Creatures, and Experiments both Diabolical and Dangerous! Included are: MYSHKIN, by David V. Reed A LIGHT THAT SHAMED THE SUN, by C. J. Henderson INCOMPLETE DATA, by H.B. Fyfe THE CORPSE ON THE GRATING, by Hugh B. Cave COSMIC TELETYPE, by Carl Jacobi MONSTER KIDNAPS GIRL AT MAD SCIENTIST'S COMMAND!, by Lawrence Watt-Evans... [click here for more] | Wildside Press | $0.99 |
| Resistance. Revolution. Standing up and demanding to have your space, your say, your right to be. From small acts of defiance to protests that shut down cities, Do Not Go Quietly is an anthology of science fiction and fantasy short stories about those who resist. Within this anthology, we will chronicle the fight for what is just and right, and what that means: from leading revolutions to the simple... [click here for more] | Apex Book Company | $4.99 |
| The landmark anthology series of international speculative fiction returns with volume 5 of The Apex Book of World SF. Cris Jurado joins series editor Lavie Tidhar to highlight the best speculative fiction from around the world. Cyberpunk from Spain, Singapore and Japan; mythology from Venezuela, Korea and First Nations; stories of the dead from Zimbabwe and Egypt, and space wonders from India, Germany... [click here for more] | Apex Book Company | $4.99 |
| David H. Keller, M.D. (1880-1966) was indeed a medical doctor (a psychiatrist -- and the first to write science fiction). He was an early proponent of H.P. Lovecraft and wrote a number of articles on Lovecraft's work, whose influence can be seen in some of his horror stories. Another influence was James Branch Cabell. This volume concentrates on Keller's fantasy and horror, but does include --... [click here for more] | Wildside Press | $0.99 |
| Nictzin Wilstone Dyalhis (1873—1942) was an American chemist and short story writer who specialized in the genres of science fiction and fantasy. He wrote as Nictzin Dyalhis. During his lifetime he attained a measure of celebrity as a writer for the pulp fiction magazine Weird Tales. This volume collects 6 of his stories from Weird Tales, plus one from Argosy. Included are: THE SEA-WITCH... [click here for more] | Wildside Press | $0.99 |
| This anthology collects some of the best original short fiction published in Apex Magazine over the past six years. The stories include our numerous award-nominated works, our readers' Story of the Year selections, and personal favorites chosen by Apex Magazine editor-in-chief Jason Sizemore and managing editor Lesley Conner. TABLE OF CONTENTS Jackalope Wives by Ursula Vernon Going Endo by Rich... [click here for more] | Apex Book Company | $4.99 |
| Ergo Sum is sold PWUW (Pay What yoU Want), DRM-free and CC-licensed in order to ensuring total freedom for the consumer. Specifically, we are releasing this book under the CC BY-SA International 4.0 license (https://creativecommons.org/licenses/by-sa/4.0/). We wrote this book to tell a few stories, and we care more about that than turning a quick buck. We just hope you enjoy, and continue... [click here for more] | Y. Rice Publications | Pay What You Want |
| Desperate Journeys holds six short stories from Ryan Macklin: Cracks in Marble, where a gargoyle made to protect humans falls in love with one What a Mother Will Do, set in a distant future where refugees struggle for survival in their exodus Stories from Finis: A Book of Endings, humorous tales told in a "choose your own adventure" fashion These... [click here for more] | Ryan Macklin | $2.49 |
| Horton's elegiac anthology of 15 mostly hard SF stories illuminates a broad spectrum of grief over love thwarted through time, space, human frailty or alien intervention, from the gentle melancholy of Michael Swanwick's "Triceratops Summer," which posits tame Technicolored time-warped dinosaurs in Vermont, to newcomer Leah Bobet's "Bliss," an agonizing riff on near-future drug addiction.... [click here for more] | Wildside Press | $2.99 |
| "Tonight, the CVLT gathers and the Monolith rises again." It is Halloween, 2018. It has become a tradition. It is now time, as the fourth gathering is upon us, with the fourth annual Corrogatio. In the biggest collection of writers to date, Corrogatio IV: the Midnight Massacre is presented to you. Ten gut-grinding tales of terror from authors from all over the world gather together... [click here for more] | Crushpop Productions | FREE |
| "Tonight, the CVLT gathers and the Monolith rises again." It is Halloween, 2019. It has become a tradition. It is now time, as the fifth gathering is upon us, with the fifthannual Corrogatio. Nine gut-grinding tales of terror from authors from all over the world gather together to bring to you a journey into absolute madness. Stories included in this year's publication, feature... [click here for more] | Crushpop Productions | FREE |
| "Tonight, the CVLT gathers and the Monolith rises again." It is Halloween, 2020. It has become a tradition. It is now time, as the sixth gathering is upon us, with the sixth annual Corrogatio. The largest gathering has been amassed, as 12 authors present 14 gut-grinding tales of terror in this year's celebration. Included in this special digital edition, comes DOOMED!, an audio drama... [click here for more] | Crushpop Productions | FREE |
| A new collection of 17 science fiction and horror stories by a well-known SF novelist, including four published for the first time. New York Times bestselling author Steve Perry notes in his introduction: "He tends to grab you with the first line and not let go until the last line, and it's an interesting ride all the way through. ...Glass has a winner here." Note:... [click here for more] | Wildside Press | $3.99 |
| "Tonight, the CVLT gathers and the Monolith rises again." It is Halloween, 2021. It has become a tradition. It is now time, as the seventh gathering is upon us, with the seventh annual Corrogatio. The largest gathering has been amassed, as 12 authors present chilling gut-grinding tales of terror in this year's celebration. Included in this special digital edition, and for the first... [click here for more] | Crushpop Productions | FREE |