Follow Your Favorites!
Sign in
to get custom notifications of new products!

Featured Product
Tales of the Dark Eras
by Onyx Path Publishing
This collection includes historical stories based within the shadowed past of Vampire: the Requiem, Mage: the Awakening, and other Chronicles of Darkness settings.
Explore the shadows with Howard Ingham, Malcolm Sheppard, Pete Woodworth, Jess Hartley, Monica Valentinelli, Matthew McFarland, Meghan Fitzgerald, Dennis Detwiller and more!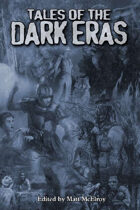 | Products found in this section... | Sort by: |
| --- | --- |
| | | |
| --- | --- | --- |
| Title | Publisher | Price |
| In 2004, the World of Darkness Rulebook introduced a concept that intrigued, tantalized and inspired readers and players, and left them with the question: What is the God-Machine? You hold in your hands the book that might answer that question...or might simply complicate it. The God-Machine Chronicle Anthology contains new fiction by Justin Achilli, Eddy Webb, Stew Wilson, David... [click here for more] | Onyx Path Publishing | $2.99 |
| Walk through the ages... As a companion to Chronicles of Darkness: Dark Eras this anthology reveals secrets of the mystics, whispers rumors of the dead, and shines a light into the darkest corners of the world. This collection includes historical stories based within the shadowed past of Vampire: the Requiem, Mage: the Awakening, Werewolf: the Forsaken,... [click here for more] | Onyx Path Publishing | $2.99 |
| Take your seat. Delta Green: Dark Theatres presents eight new stories of intrigue and horror, eight theaters in which desperate actors engage clandestine passion plays for the grim amusement of alien gods, Witness the horrors of the Raids on Innsmouth the terrible secrets of World War II, the tropical nightmare of Vietnam, the chill vacuum of Yuggoth, the asynchronous folds of space-time,... [click here for more] | Pagan Publishing | $4.99 |
| Slices of Fate is a unique collection featuring the works of Eddy Webb. Stories within range from the author's nod to literary tales as in his piece "A Sheepish Trip to Yorkshire" to his more speculative work such as "The Battlefield." Essays include a series on two of Webb's oldest loves: wrestling and Sherlock Holmes. Combined with several pieces of microfiction, this... [click here for more] | FR Press | $2.99 |
| From the battle-torn skies over World War I France to the corridors of alien prisoner-of-war satellites, the opium dens of exotic Victorian Shanghai to the living rooms of suburban America, the zombies rise up. Some crave revenge. Others hunger for the brains of the living. All are driven by desires they can neither control nor understand... Edited by James Lowder, The Book of Final Flesh presents... [click here for more] | Eden Studios | $4.99 |
| The dead have risen. God help the living. It's too late to run. The zombies are everywhere. They stalk through urban jungles and across the carefully manicured lawns of suburbia, shudder to unlife on the bloodiest battlefields of the Civil War and in the deepest tunnels of far-flung interstellar mining colonies. They lurk on your street, in your company's boardroom, in your own bedroom. And they hunger.... [click here for more] | Eden Studios | $4.99 |
| They won't stay dead! The zombies cannot be stopped. From the pitch-black holds of pirate ships and the tunnels beneath the war-torn jungles of Vietnam, they rise up. And there's no way to stop them, no corner of the world that's safe from the invasion. Secret government labs, the trendy galleries of New York's art scene, the drawing rooms of nineteenth century England all become the lair of... [click here for more] | Eden Studios | $4.99 |
| Stories in the Ether is a quarterly storytelling anthology of fantasy, steampunk, and science fiction short stories from Nevermet Press. This issue features 13 compelling works by Therese Arkenberg, David Bell, Charlie Britten, Matt Delman, Tim Kane, KA Masters, David Perlmutter, Gary Phillips, Michael Morrison, Jason Rolfe, Dawn Vogel, David Wright, and Lee Clarke Zumpe. Artwork inspired by... [click here for more] | Nevermet Press | $1.50 |
| No other story has touched as many hearts and endeared itself into the American fabric as The Wonderful Wizard of Oz by L. Frank Baum. Often toted as America's First Fairy Tale, this heartwarming classic has been made and remade again and again across every medium known to man. The themes are timeless, the characters themselves beloved. But like all fairy tales, The... [click here for more] | Northern Frights Publishing | $15.95 $4.99 |
| Winner of the New York Book Festival Award, the Benjamin Franklin Silver Award, and top finalist for the IPPY and Compton Crook Awards, this dynamic horror reinvents the werewolf in the first of the Ivy Cole series. "Sometimes there are folks in this world who just deserve a good killin'..." Ivy Cole has returned home to Doe Springs, NC, a quiet community in the Blue Ridge... [click here for more] | NeDeo Press | $25.95 $7.99 |
| This FREE Sampler contains the first 3 chapters of JW Schnarr's debut novel Alice & Dorothy, which will be available June 15th/2011. It also contains 3 bonus stories from his collection Things Falling Apart, which is out now in digital format and coming soon to paperback. Taken from the Back Text of Alice & Dorothy: Alice Pleasance has just killed a man. Later,... [click here for more] | Northern Frights Publishing | FREE |
| This excerpt from the Buried Tales of Pinebox Anthology was released for the East Texas University Kickstarter. It contains an iconic tale of East Texas horror by David Wellington, and provides some creepy tone and atmosphere for your upcoming campaign! Included are ePub and Mobi (Kindle) versions of the story. ... [click here for more] | Pinnacle Entertainment | FREE |
| It begins with the end... When Megan Pritchard clocks in for her late night shift in a Nevada brothel, she has no way of knowing it will be her last. Around the world, the dead are rising, and mankind is on the express train to extinction. As her coworkers turn into cannibalistic zombies, Megan is forced to flee into the desert with nothing but the clothes on her back and a vague plan to reach her... [click here for more] | William Esmont | $9.99 $3.73 |