Follow Your Favorites!
Sign in
to get custom notifications of new products!

Featured Product
Art of Witchblade
by Top Cow

Beautiful artwork has always been a hallmark of the WITCHBLADE franchise, and now for the first time you can have the creme de la creme in one high-end art book!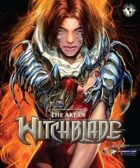 | Products found in this section... | Sort by: |
| --- | --- |
| | | |
| --- | --- | --- |
| Title | Publisher | Price ▲ |
| Please take a moment to look for Hawaii Star Manga Project Issues #1, 3, and 4! Our first Bimonthly Doublesized issue #5 is out soon, in early Fall! The Hawaii Star Manga Project #2 is a new Hawaiian mixed-plate anthology manga, featuring the hot Noir Horror/Mystery adventures of Tobias Wah, F.E.L.I.X his robotic manservant, and Gaia City PD Detective Jubei in the... [click here for more] | Lime Media Hawaii | $2.50 |
| Hawaii Star Manga Project #4 Features the second installment of rising star Pua Kalaunu's paranormal coming of age tale Children of Aumakua, Episode 2 of the legendary Isao Muranaka's noir vampire hunter in the Tobias Wah Chronicles, and a POP Iki Road Trip Special look at the other side of Bon Dances, fun for wallflowers and old Obon hands alike... THE FOOD! Hawaii's eatingest Bon dance fare laid... [click here for more] | Lime Media Hawaii | $2.50 |
| 10th Anniversary of The Darkness! In the vein of most Art of books for video games and films, the Art of the Darkness oversized book will feature 96 pages of art, thoughts from the original artists and no ads or useless text in this glossy, thick-papered, beautifully designed book. Covers, splash pages, collectible cards, sketches--the best of the best The Darkness art and some iconic... [click here for more] | Top Cow | $7.99 |
| Beautiful artwork has always been a hallmark of the WITCHBLADE franchise, and now for the first time you can have the creme de la creme in one high-end art book! This oversized coffee table art book features selected works from the artists that defined the Witchblade legacy, including Marc Silvestri, Michael Turner, Keu Cha, Stjepan Sejic, Mike Choi, Francis Manapul, Randy Green and Adriana Melo.... [click here for more] | Top Cow | $7.99 |
| The Top Cow Universe and its library of properties is one of the most intricate and varied in comics today. The Top Cow Bible is a comprehensive collection listing all of Top Cow's properties and key characters. The volume includes profiles, first appearances, key creators, trivia, and a top-secret "In Development" section. Previously only available at San Diego Comic-Con, this... [click here for more] | Top Cow | $7.99 |
| Art, Evil and Intertextuality in the Stephen King Novels Stephen King is no stranger to the realm of literary criticism, but his most fantastic, far-reaching work has aroused little academic scrutiny. This study of King's epic Dark Tower series encompasses the career of one of the world's best-selling authors and frames him as more than a "horror writer." Four categories... [click here for more] | McFarland | $14.99 |
| This special bundle product contains the following titles. FAME Neil Gaiman Regular price: $3.99 Bundle price: $0.91 Format: Watermarked PDF Neil Gaiman started out humbly in the so-called British Invasion of comics in the 1980s, writing rock and roll biographies, but soon leaped into the vanguard with his revolutionary series The Sandman, which helped launch the... [click here for more] | TidalWave Productions | $21.90 $10.00 |