Follow Your Favorites!
Sign in
to get custom notifications of new products!

Featured Product
Complete KOBOLD Guide to Game Design, 2nd Edition
by Kobold Press
A Master Class in RPG Design

Practical, thought-provoking essays on worldbuilding, creating magic systems, conflict, and compelling stories, working as a design professional, and much more. Conceptual chapters examine what game design is and how good design can create the best games. A Gold ENnie winner, now revised and updated!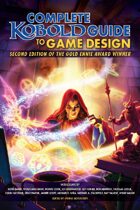 | Products found in this section... | Sort by: |
| --- | --- |
| | | |
| --- | --- | --- |
| Title | Publisher | Price |
| For anyone in need of a pithy one-liner, a harrowing phrase, or a jaunty quip for their next story or role-playing game, this collection of fantasy artwork and phrases will be the ultimate resource for fun and creativity. When attacked by a dragon, some might say, "My shield is strong and my sword is sharp. Stand behind me if you want to live." Others might say,... [click here for more] | Andrews McMeel Publishing | $9.99 |
| Game Masters and players alike are familiar with dragons and the threat they present in the world's most popular tabletop roleplaying game. They've become so well-known, however, that some might say the magic has worn off them a bit. Even with the benefit of high-profile gaming supplements, they've become generic monsters, making the dragons in "Dungeons & Dragons" a shadow of their former... [click here for more] | Topix Media Lab | $14.99 |
| Decades of GMing Experience at Your Fingertips! "Kobold Press builds on its excellent track record with another great release—new and provocative." —Mike Mearls Whether it's advice from grognards who were running games at the dawn of RPGs, or suggestions from the new generation of game designers, these 21 essays by experts are here to help you improve your GMing skills and create... [click here for more] | Kobold Press | $12.99 |
| The Ultimate Resource for Gamers, Game Masters, and Designers The first edition of the COMPLETE KOBOLD GUIDE TO GAME DESIGN laid out concepts, techniques and advice for designing roleplaying games and enhancing adventures. This second edition brings together essays from the original volume by Wolfgang Baur, Monte Cook, Keith Baker, Ed Greenwood, and others, many updated to reflect... [click here for more] | Kobold Press | $14.99 |
| Discover a new world of adventure in this collection of pulse-pounding stories written by some of the greatest fantasy authors around, all set in the World of Aetaltis campaign setting. From the vine enshrouded ruins of a lost jungle temple to the seedy back alleys of the villainous city of Port Vale, experience the thrill of heroic fantasy with these gripping tales of action and adventure. Featuring... [click here for more] | Mechanical Muse | $14.99 $9.99 |
| In ages long past someone built a barrow for a prince, and laid him to rest--or so they thought. The bodies of his wife and a few of his descendants found their way there as well before the barrow fell into disuse and was in time forgotten. And now, perhaps, after centuries have slipped by, the hour may have arrived for the prince to return, and with him relics of great power. Set in the Known World--setting... [click here for more] | Aegis & Gorgon | $9.99 |
| Welcome to Dragon City, a grim, gritty metropolis ruled over by the Dragon Emperor, with legions of zombies scratching at the city walls by night. Whether in the streets of Goblintown or the prestigious halls of the Academy of Arcane Apprenticeship, people try to scrape by, make a living, and survive from one day to the next. You, however, are looking for something... [click here for more] | Full Moon Enterprises | $29.95 |
| What would happen if a fantasy world of dragons, elves, and fairies suddenly appeared in our real world? Enter the world of Amethyst, a work of fiction dealing with real issues facing us here and now. The art has been created to realistically depict this setting. This book is a visual history of the relationship of a single game designer and an artist and the fruits of their collaboration over... [click here for more] | Dias Ex Machina Games | $9.99 |
| A text-based storytelling interaction, set in an alternate version of 1700s Spain. The participants all read a situation that is established with a scene and dialogue. Then they each use writing skills to make the conclusions. Each scenario is first played solo, and then later in groups. No Game Master required, and no dice. But there are rules to keep it systemised. The scenarios are also replayable... [click here for more] | Karl Michael Gorman | $0.15 |
| Who hasn't been fascinated by monsters? This book collects some of the best creatures from Dungeons & Dragons, setting them out in an informative illustrated bestiary for beginners and enthusiasts alike. Whether they're beasts, spirits, demons, or even aliens, most fantasy worlds are filled with monsters. Some are harmless—many... [click here for more] | Andrews McMeel Publishing | $9.99 |
| Your players are traveling down a forest path. They watch you roll a die for a random encounter, and wonder what it's going to be. But it's all an act. Here are 9 events that appear to be random, until the players start putting together the pieces and realize it's a side quest!   This game presents a night's worth of adventure for a very low price. The challenges are designed for a party... [click here for more] | Dimension Comics | $0.99 |