Follow Your Favorites!
Sign in
to get custom notifications of new products!

Featured Product
The Lost Level
by Apex Book Company

Probably the most well-written "pulp" novel you'll ever read, and its characters will stick with you the same way your favorite comic characters did as a kid. Keene has always specialized in relatable characters, and the same is true here.
--Horrordrive-in.com, Frank Pharaoh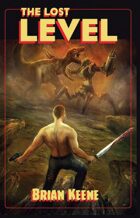 | Products found in this section... | Sort by: |
| --- | --- |
| | | |
| --- | --- | --- |
| Title | Publisher | Price |
| Apex is proud to present the first book in Grand Master Award winner Brian Keene's long-awaited new series, a loving ode to lost world classics like Burroughs's PELLUCIDAR, Howard's ALMURIC, and Lansdale's THE DRIVE-IN, but with a thoroughly modern twist that only Brian Keene could conceive. When modern-day occultist Aaron Pace discovers the secrets of inter-dimensional travel via a mystical pathway... [click here for more] | Apex Book Company | $6.99 |
| Part sword and sorcery, part extreme horror, King of the Bastards is wild adventure across seas, beaches, and mountains full of horrifying monstrosities, dark magic, and demonic entities. Rogan has been many things in his life as an adventurer — a barbarian, a thief, a buccaneer, a rogue, a lover, a reaver, and most recently, a king. Now, this prehistoric bane of wizards and tyrants... [click here for more] | Apex Book Company | $15.95 $4.99 |
| War has come in this sequel to the best-selling novel THE LOST LEVEL. The snake-like Anunnaki have always been a blight for the people living in the hidden dimension known as the Lost Level, but now, the denizens are fighting back. After their community is decimated and their loved ones are enslaved in the aftermath of a devastating Anunnaki attack, Aaron Pace leads a diverse group... [click here for more] | Apex Book Company | $4.99 |
| David H. Keller, M.D. (1880-1966) was indeed a medical doctor (a psychiatrist -- and the first to write science fiction). He was an early proponent of H.P. Lovecraft and wrote a number of articles on Lovecraft's work, whose influence can be seen in some of his horror stories. Another influence was James Branch Cabell. This volume concentrates on Keller's fantasy and horror, but does include --... [click here for more] | Wildside Press | $0.99 |
| Beneath the universe lies a castle steeped in shadow. Called Oubliette by its denizens, it is a vast and labyrinthine, with massive crumbling provinces ringed by a series of walls that stretch up to the heavens. Its inhabitants are the Forgotten: people, ideas, and even gods that have been discarded by the tangled timelines of the World of Life and left for millennia in the dark. For some, the Castle... [click here for more] | Voidspiral Entertainment | $7.00 |
| "A very well-written, haunting collection of shorts" -- Scott Marlowe, . From the multiple NY Times bestselling author who brought you Erevis Cale and Darth Malgus, comes this compelling volume of dark imagination. Experience the fantastic through the eyes of a private detective who hunts the occult in 1930s NYC, a demonologist who may or may not be mad, a maimed talespinner on a doomed... [click here for more] | Paul S. Kemp | $2.99 $0.99 |
| Welcome to the world of Apocalypse Prevention, Inc. This 9 story anthology lets you experience the mystery through the eyes of those that live in it. Take a walk on the wild side of magic, monster hunting and demons lurking around every corner. From the minds of RPG industry favorites and newcomers alike. Brennan Bishop Clint Black Stacey Gossett Mark Hall Josh Hilden Lyndsey Holder John... [click here for more] | Third Eye Games | $9.99 $3.99 |
| Death is only the beginning ... ARACHNE: A PYRE OF ANGELS is an unforgettable work of epic fantasy. Kent David Kelly's haunting saga chronicles the death and afterlife of Elspeth Wight, a young Steam Age noblewoman whose beloved sister Christabel has died. Without Christabel, the heartbroken Elspeth forsakes her own beliefs. Tormented and reckless, she dares to believe... [click here for more] | Kent David Kelly | $9.99 $4.99 |
| Dysphoria - an emotional state characterized by anxiety, depression, or unease. Just a broken doll. Will she ever find out who she really is? Suicide. Gender identity. Body image. Nightmares. Bullying. Peer pressure. Loss of the self. Melissa's Adventures in the Dreamlands, and What she Found There. You know, weird Lovecraftian stuff. Ia! Ia! Cthulhu fhtagn! Presented by the First United... [click here for more] | Dangerous Worlds | $2.99 |
| For Sarah, imprisonment in Solis's soul cages meant an absence of senses. Unable to feel, to taste, to smell, or to love, Sarah's driven by her desire to escape and to become flesh once more. When she's rescued by the legendary ministers of souls, Sarah's elation is short lived. The legendary knights, led by prince Marion of Veloris, are splintered and prone to in-fighting and jealousy. With Valek's... [click here for more] | Mocha Memoirs Press, LLC | $6.99 $3.99 |