Follow Your Favorites!
Sign in
to get custom notifications of new products!

Featured Product
Mythos Society Guide to New England
by Skirmisher Publishing
This expansive universal sourcebook describes the land and its inhabitants, its prehistory and history, and its natural and unnatural characteristics. In the pages of this guidebook you will find tales of the witchcraft, hauntings, monsters, and malevolence that have plagued the peoples of New England from pre-Colonial days into the 20th century. Read and use it at your own risk!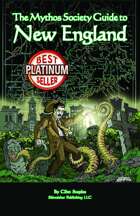 | Products found in this section... | Sort by: |
| --- | --- |
| | | |
| --- | --- | --- |
| Title | Publisher | Price |
| The Mythos Society Guide to New England is an expansive universal sourcebook that can be used to enhance any horror, mystery, or adventure roleplaying scenarios set in New England. This fictional travel guide is intended to be a fun and provocative read for anyone interested in the esoteric history of New England, and a resource for stories or other projects that have horror or the weird as... [click here for more] | Skirmisher Publishing | $9.99 |
| Kobolds Work a Little Magic The popular and wildly useful Kobold Guide series tackles the biggest subject in fantasy: Magic! What makes a fantasy fantastic? Magic, of course! Whether it's unearthly beasts, scheming sorcerers, legendary swords or locales that defy logic and physics, a compelling fantasy story needs magical elements. The tricky part is that in order for the story to work,... [click here for more] | Kobold Press | $14.99 |
| Your brain holds an impressive vocabulary of more than 20,000 words, but chances are you only use a small fraction of them. That fraction is usually filled with worn-out oldies that have lost their impact, such as interesting, good, and nice. Inside, you'll find more than fifteen alternatives for each of the one hundred most commonly overused words in the English... [click here for more] | Untreed Reads Publishing | $4.99 |
| Welcome to the Swords of Kos Fantasy Campaign Setting, a swords-and-sorcery milieu based on a Dark Ages fantasy version of the Mediterranean and the lands surrounding it! It is set a century after a Great Cataclysm destroyed the old world, plunged it into chaos, and reawakened magic and all form of ancient races and monsters. Now, the agents of Gods and Titans struggle against each other on... [click here for more] | Skirmisher Publishing | $29.99 |
| Clark Ashton Smith (1893-1961) was a major writer of fantasy and science fiction during the first half of the twentieth century. Together with H. P. Lovecraft and Robert E. Howard, Smith was one of the "Three Musketeers" of legendary Weird Tales magazine, and contributed some of the most distinctive (and controversial) fantastic fiction to ever appear in Hugo Gernsback's Wonder Stories. His... [click here for more] | Wildside Press | $4.99 |
| A beginner's guide to the paranormal, through the eyes of a professional paranormal investigator. If you've ever wanted to head out on your very own ghost hunt, but don't quite know how to get started, this guide will get you on your way. Learn the basic information for a successful ghost investigation, plus a handy reference of vocabulary and investigative forms to use to keep you organized.... [click here for more] | Deslisle Publications | $3.99 |
| "Who knows what evil lurks in the hearts of men? . . . The Shadow knows!" And who knew The Shadow better than his creator, Walter B. Gibson. Relatively few people have heard of Gibson, but many more are familiar with The Shadow having heard the program on the Blue Coal Radio Program in the 1930s and read the Street & Smith Shadow novels. Walter B. Gibson's life and career come out from... [click here for more] | McFarland | $19.99 |
| City Builder: A Guide to Designing Communities is a writer's resource specifically designed to help storytellers create exciting and compelling urban areas and other sorts of communities and places within them. It is a universal sourcebook that can support the needs of any ancient, Dark Ages, Middle Ages, Renaissance, or fantasy fiction or role-playing game setting.  This comprehensive, fully-illustrated... [click here for more] | Skirmisher Publishing | $24.99 |
| The Sagas of Icelanders are enduring stories from Viking-Age Iceland filled with love and romance, battles and feuds, tragedy and comedy. Yet these tales are little read today, even by lovers of literature. The culture and history of the people depicted in the Sagas are often unfamiliar to the modern reader, though the audience for whom the tales were intended would have had an intimate understanding... [click here for more] | McFarland | $12.99 |
| This collection of new essays covers the myriad portrayals of the figure of the pirate in historical records, literary narratives, films, television series, opera, anime and games. Contributors explore the nuances of both real and fictional pirates, giving attention to renowned works such as Robert Louis Stevenson's Treasure Island, J.M. Barrie's Peter Pan, the Pirates of the... [click here for more] | McFarland | $19.99 |
| "Although the problems of writing fantasy and science fiction include all those pertaining to the writing of any kind of fiction, particular problems arise in stories in which unprecedented things can and do happen, as well as stories that often involve unhuman characters of various sorts, and that might require the elaborate design of entire imaginary worlds. This book provides an elementary introduction... [click here for more] | Wildside Press | $4.99 |
| Acclaimed author and scholar Brian Stableford turns his penetrating mind to matters of science fiction, fantasy, and horror in this collection of essays. He covers such diverse topics as: SLAVES OF THE DEATH SPIDERS: Colin Wilson and Existentialist Science Fiction IS THERE NO BALM IN GILEAD?: The Woeful Prophecies of Margaret Atwood's The Handmaid's Tale A FEW MORE CROCODILE TEARS?: Gwyneth... [click here for more] | Wildside Press | $3.99 |
| Using the original 1928 translation, the infamous Malleus Maleficarum is here for a study into medieval church history and superstitions. The way this text portrays and practices the punishment of occult figures is brutal and unwelcome in modern society but sadly this text has formed what many people's view of witches and warlocks are. Of course most of this isn't true and has no real bearing on... [click here for more] | Anthony Uyl | $0.99 |
| When Paris, prince of Troy, ran off with Helen, wife of the king of Sparta, it launched the greatest war of the mythic age of Greece. Heroes and gods assembled on both sides, as the combined armies of Greece launched a siege that would last for ten years. During that time, famous heroes, such as Achilles, Ajax, and Hector, would find glory on the battlefield, before being cut down. Others, such as... [click here for more] | Osprey Publishing | $17.95 $7.46 |
| The 14 essays in Game on, Hollywood! take on several points of game and film intersection. They look at storylines, aesthetics, mechanics, and production. The book is about adaptation (video game to film, film to video game), but it is even more about narrative. The essays draw attention to the ways and possibilities of telling a story. They consider differences and similarities... [click here for more] | McFarland | $15.99 |
| In Beyond Horatio's Philosophy: The Fantasy of Peter S. Beagle, David Stevens examines the fantasy of American writer Peter S. Beagle. He finds a consistent view of the world and an almost overpowering sense of humor, leading him to conclude that Beagle believes that love is the best thing we have and the only reason for living. His work will be read and enjoyed for generations to come, and Stevens... [click here for more] | Wildside Press | $3.99 |
| These essays from various critical disciplines examine how comic books and graphic narratives move between various media, while merging youth and adult cultures and popular and high art. The articles feature international perspectives on comics and graphic novels published in the U.S., Canada, Great Britain, Portugal, Germany, Turkey, India, and Japan. Topics range from film adaptation, to journalism... [click here for more] | McFarland | $19.99 |
| A Critical Analysis of The Prisoner, Twin Peaks, The X-Files, Buffy the Vampire Slayer, Lost, Heroes, Doctor Who and Star Trek From The Prisoner in the 1960s to the more recent Heroes and Lost, a group of television series with strong elements of fantasy have achieved cult status. Focusing on eight such series, this work analyzes their respective innovations and influences. Assessing the strategies... [click here for more] | McFarland | $17.99 |
| This very special bundle contains 22 titles, including two works on gaming by H.G. Wells; a reminiscence on a months-long wargame by Robert Louis Stevenson; our "Stories from the Northern Myths," "Guns and Super-Guns," and "Ironclads"; Andrew Lang's "The Story of the Golden Fleece" and eight other short stories; four copies of a World War I comic; a coloring book;... [click here for more] | Skirmisher Publishing | $42.70 $12.99 |
| The waters are rising--everywhere--and most of England is inundated by the surge, leaving isolated pockets of mankind to fight for survival--and for civilization! ... [click here for more] | Wildside Press | $2.99 |
| Superman is the original superhero, an American icon, and arguably the most famous character in the world--and he's Jewish! Introduced in June 1938, the Man of Steel was created by two Jewish teens, Jerry Siegel, the son of immigrants from Eastern Europe, and Joe Shuster, an immigrant. They based their hero's origin story on Moses, his strength on Samson, his mission on the golem, and his nebbish... [click here for more] | McFarland | $45.00 $21.99 |
| A Tome of Lyrics, Poems and Anecdotes from the Hard Rockin' Days of Heavy Metal A memoir based on lyrics, poems and anecdotes from the glory days of heavy metal, when long hair, headbangers and metalheads ruled the earth! Now revised and updated with NEW songs, NEW poems and rockin' NEW anecdotes! ... [click here for more] | Epic Age Media | $15.00 $10.00 |
| Slithery Jungle Tales is a tongue-in-cheek tribute to the old pulp science fiction and fantasy magazines of the early 20th century. The stories are written in the style of Edgar Rice Burroughs, Robert E. Howard, and Robert Bloch, but they are new and original stories.  I play fast and loose with the themes of jungle adventures, swords-and-sorcery, and lurid but not pornographic eroticism.  Also included... [click here for more] | Trollgodfather Press | $14.99 $4.99 |