Follow Your Favorites!
Sign in
to get custom notifications of new products!

Featured Product
The Unofficial Ultimate Harry Potter Spellbook
by Topix Media Lab
There are more than 200 spells in all, plus suggestions for strategic spell use and methods for creating original spells.
Readers will also find trivia related to each spell, such as who it was used against, what the outcome was, or what a spell's unusual history might be.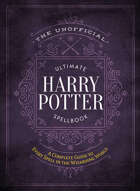 | Products found in this section... | Sort by: |
| --- | --- |
| | | |
| --- | --- | --- |
| Title | Publisher | Price |
| The Normal Tarot, in all its glory. For help reading this deck, consider buying the companion book, How to Normal Tarot. This is the second printing of the deck, and unlike the original printing does not come with silvered edges or a deck box. The simple reason being that this printer doesn't make deck boxes large enough for this behemoth of a tarot deck.  - The full 99 card deck,... [click here for more] | Seven Thirteen Books | $45.00 |
| The Unofficial Harry Potter Spell Book is a beautiful, elegantly designed reference that details all of the known spells cast in the Harry Potter films, books, video games, and card games, as well as, official Harry Potter spinoffs, such as Fantastic Beasts and Where to Find Them. Each spell is given its own entry including spell name, pronunciation details, a description of the spell effects, spell... [click here for more] | Topix Media Lab | $14.99 $12.99 |
| FOLLOW YOUR DREAMS AND WORK FOR YOURSELF ★★★★★ "The Artist's Way for the 21st century!" Whether you want to quit your 9-5 job to be self-employed or you want to streamline your career to be more efficient, IT'S A LIVING is for you! According to this year's most comprehensive study, there are over 57 million freelancers in the U.S. alone and growing. The... [click here for more] | Cristian S. Aluas | $4.99 |
| Begin transmission . . . Running weekly from May 2015 to April 2016, The Canister X Transmission was sent via email to readers worldwide. Every week, readers received updates from the desk of A.P. Fuchs that served as a behind-the-scenes gateway into his views on the publishing industry and past work. The newsletter covered four main topics: Writing/Creating/Publishing, in which... [click here for more] | Coscom Entertainment | $2.99 |
| The debate over the true author of the Shakespeare canon has raged for centuries. Astonishingly little evidence supports the traditional belief that Will Shakespeare, the actor and businessman from Stratford-upon-Avon, was the author. Legendary figures such as Mark Twain, Walt Whitman and Sigmund Freud have all expressed grave doubts that an uneducated man who apparently owned no books and never left... [click here for more] | Untreed Reads Publishing | $5.99 |
| #ColoringTherapy helps to guide the reader through the mental process of coloring. Not merely for childhood playtime, coloring in your adult life can provide time to re-focus your mind and spirit. It can help with fine motor skills and improve numerous brain functions. Coloring may also provide an outlet to grieve. As your begin the journey into adult coloring, along the path you should gain some... [click here for more] | A. J. Bruner | $12.99 |
| During my third year of medical school I stumbled upon an online article about calorie restriction with optimal nutrition. I read about an apparently simple diet intervention that prolonged the average and maximum lifespan of laboratory animals such as yeast, fruit flies, worms and mice. At that time, I wasn't aware that such experiments were already done on non-human primates too. Honestly,... [click here for more] | Anca Ioviţă | $6.99 |
| Aging is a puzzle to solve. This process is traditionally studied in a couple of biological models like fruit flies, worms and mice. What all these species have in common is their fast aging. This is excellent for lab budgets. It is a great short-term strategy. Who has time to study species that live for decades? But lifespan differences among species are magnitudes of order larger than any lifespan... [click here for more] | Anca Ioviţă | $9.99 |
| Begin transmission . . . Running weekly from May 2016 to April 2017, The Canister X Transmission was sent via email to readers worldwide. Every week, readers received updates straight from A.P. Fuchs that were meant to entertain, educate, and inform. The newsletter covered four main topics: Weekly Creative Recap, in which Fuchs shared what he was working on and gave readers... [click here for more] | Coscom Entertainment | $2.99 |
| Are you at a crossroads? Do you wonder what should you do with your life? Would life be easier if you could only get some direction? Even if people don't chit-chat about legacies, these are questions arising during silent nights in the mind of almost everyone. Especially in those of us reaching certain life miles like adulthood, middle life and retirement. Have you ever noticed the process of metamorphosis... [click here for more] | Anca Ioviţă | $2.99 |