Follow Your Favorites!
Sign in
to get custom notifications of new products!

Featured Product
The Lost Spark
by Aspen Comics
An adventurous tale of wonder, The Lost Spark celebrates the magic of childhood - the fantasy of imagination, the darkness of the unknown, and the beauty of friendship that knows no bounds.
Prepare to enter a world both familiar and new, and one that you'll never want to leave.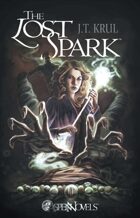 | Products found in this section... | Sort by: |
| --- | --- |
| | | |
| --- | --- | --- |
| Title | Publisher | Price |
| First published in 1976, The Year the Lights Came On was Terry Kay's debut novel and is now required reading in schools in Georgia. Revolving around the electrification of rural northeast Georgia shortly after the end of World War II, the novel has become a classic coming-of-age story. Kay, now an acclaimed writer with an international following, has reread the novel with the eyes of a seasoned... [click here for more] | Untreed Reads Publishing | $4.99 |
| "I've lost my marbles." When fourteen year-old Angie hears these simple words uttered from her aging grandfather's lips, she has no idea that it will send her on a journey into a hidden world of magic born from childhood imagination - one that bonds each and every one of us to our own unique spark, a special talisman with wondrous powers. Like many over the years, Angie forgot about her spark, as... [click here for more] | Aspen Comics | $6.99 $3.99 |
| Bill longs for a life of adventure and a chance to leave his family's farm. When brigands set their eyes on the property, he gets more than he wished for. This story is set loosely around a table top roleplaying game supplement called Tangible Taverns: Gumption. ... [click here for more] | Dire Rugrat Publishing | Pay What You Want |
| A 22-year-old Dorothy Gale searches for the Fountain of Youth so she can return to her twelve-year-old self after having been imprisoned by the Nome King while he ruled the Land of Oz. However, she along with Scarecrow, Tin Man and Hungry Tiger discover an abandoned castle in Oz haunted by golems! Based on the timeless classic L. Frank Baum Oz books. Events within Dark Oz take place after the acclaimed... [click here for more] | Caliber Comics | $8.99 |
| A brilliant investigation into the motivations and methods behind the actions of Hogwarts's renowned Headmaster! Albus Percival Wulfric Brian Dumbledore, Headmaster of Hogwarts, is one of the most recognizable and mysterious figures in the Harry Potter series. As an unscrupulous beetle-like journalist once said, he's "a biographer's dream." Is he omniscient or limited? Is he benevolent or malevolent?... [click here for more] | Topix Media Lab | $16.99 |
| Mars is in turmoil, a civil war rages as the last embers of the solar war still burn. Which of the two great powers dare to make the first move. The failing UNC needs it to regain its past strength. Isktar Republics want it as they have a foothold in the core worlds. The following story is that of the first soldiers in their war. "Learn from our mistakes" A Sci-fi spy thriller across the Sol... [click here for more] | Dekoda S, Johnson | $11.34 |
| After failing at his dream of becoming squire to a village knight, Aaron sees a falling star. When he ventures into the forest to investigate, he finds something that will change his life. Forever. This listing contains both the ePub and AZW3 versions of the ebook. ... [click here for more] | Devon J. Kelley | $2.99 |
| On the world of Grimaton, turning nineteen is more than just a rite of passage into adulthood. When the two moons cross, it can also change your life forever. As awakened, the men and women of Grimaton are possessed of magic in the form of a special bond with an animal or a knack for manipulating the underlying energies of the land. They throw rainbow fire, swim beside alligators, or shape the blood... [click here for more] | Samurai Sheepdog | $5.99 |
| The Awakened II is a 380+ page fantasy anthology that brings together seventeen amazing authors to tell their stories of triumph, failure, fear, and acceptance. Return to the world of Grimaton and watch as its remarkable history continues to grow. When the two moons cross, anything can happen. The Kickstarter begins 6/23/2016 About this Story A Riot of Tusks tells the story of... [click here for more] | Samurai Sheepdog | FREE |