Follow Your Favorites!
Sign in
to get custom notifications of new products!

Featured Product
Dracula (Graphic Novel)
by Caliber Comics
A faithful adaptation of the classic horror novel by Bram Stoker.
The entire saga is here, from the journey of Jonathan Harker to Transylvania, to the crash of the Demeter, the blood letting of Lucy Westerna, and the brave men who fight to stop the monster and save Mina...all the great parts of this great novel.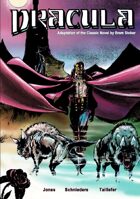 | Products found in this section... | Sort by: |
| --- | --- |
| | | |
| --- | --- | --- |
| Title | Publisher | Price |
| The Unchained don't take anything for granted.  They recognize four Incarnations, based on the types of angels they were. Four Agendas, based on the types of demons they've become. Four Keys to the Cipher, creating a series of Interlocks. They understand all of this, but they strive to remember that what has been is not necessarily what must be. Included herein are eight stories... [click here for more] | Onyx Path Publishing | $4.99 |
| Homestead is a ruined world. The entire population wouldn't fill an Imperial cruiser's low berths. They barely survive by mining the ruins for old technology. Salvagers don't live long, falling prey to dangerous mutated fauna, grit storms, or just plain starving to death. You learn to survive, or Homestead kills you. Pac is a survivor, and she works alone, salvaging what she can, trading it for... [click here for more] | Mongoose | $3.49 |
| There is only one law on the pirate world of Theev. The Blacksand Widows enforce that law with brutal efficiency and remorselessness. Sharing one consciousness, one mind, and through their cybernetic enhancements, the Widows are all but unassailable. But where there is a computer, there is a hack. An attempt to crash the Widows' network results in one sole unit of the collective, Q2,3nrpi2, being... [click here for more] | Mongoose | $3.49 |
| A significant expansion of the critically acclaimed first edition, Classics Illustrated: A Cultural History, 2d ed., carries the story of the Kanter family's series of comics-style adaptations of literary masterpieces from 1941 into the 21st century. This book features additional material on the 70-year history of Classics Illustrated and the careers and contributions of such artists as Alex A.... [click here for more] | McFarland | $12.99 |
| Born in the blazing crucible of war, but sworn to fight for peace, the mysterious obsidian aviator known only by the codename Captain Midnight… flies again! An ace pilot, super secret agent, and astounding scientific genius, the heroic Captain Midnight ruled the radio airwaves and starred in comic books, film serials and a classic television series. Now, when we need him most, he has returned,... [click here for more] | Moonstone | $3.00 |
| Toys--those celebrated childhood cohorts and lead actors in children's imaginative play--have a fantastic history of heroism in fiction. From teddy bears that guard sleeping babies to plastic soldiers and cowboys who lay siege to wooden block castles, toys are often the heroes of the stories children inspire authors to tell. In this collection of new essays, scholars from a range of disciplines... [click here for more] | McFarland | $15.99 |
| The Iron Kingdoms is a land dominated by mighty warcasters, arcanists who command the terrifying war machines called warjacks. While these epic figures lead armies and shape the futures of their nations, other powerful individuals, no less skilled, forge their own destinies in steam and steel. Called to Battle, Volume Two is a collection of stories focused on the Iron Kingdoms' greatest... [click here for more] | Privateer Press | $4.99 |
| Warcaster. Mutineer. Pirate. Captain Phinneus Shae is a man of many titles—all of them could get him killed . . . Returning from the remote continent of Zu, the crew of the Talion is stricken by a mysterious plague. When Captain Shae goes ashore on a small island to find medicinal plants to treat his men, Mercarian League mercenaries ambush him, and their ships, fast... [click here for more] | Privateer Press | $4.99 |
| A young emperor's life hangs in the balance in ancient Constantinople, and only the Brotherhood of Assassins can save him, in this action-packed historical adventure from the award-winning Assassin's Creed universe Constantinople, 867 – A murderous plot is afoot. Assisted by the Order of the Ancients, the emperor schemes to assassinate his son and throw the city into chaos. In response, the Hidden... [click here for more] | Aconyte Books | $9.95 |
| Jonathan Harker is called to Transylvania to facilitate a London estate purchase by Count Dracula. But when Harker finds himself a prisoner in the castle and three beautiful women threaten him, he realizes that this is no simple business transaction. His only hope is to escape or die because the alternative is unthinkable to him. Part 1 of 4. Overview A faithful adaptation of... [click here for more] | Caliber Comics | $1.99 |
| A faithful adaptation of the classic horror novel by Bram Stoker. The entire saga is here, from the journey of Jonathan Harker to Transylvania, to the crash of the Demeter, the blood letting of Lucy Westerna, and the brave men who fight to stop the monster and save Mina...all the great parts of this great novel. This graphic novel collects the original mini-series released by Malibu Comics in the... [click here for more] | Caliber Comics | $8.99 |
| When the editor of Bram Stoker's original Dracula was finalizing the version that would ultimately see print, what was the infamous second chapter of the book that was removed and never included in the official Dracula canon? Here is the tale, originally called "Dracula's Guest" by Bram Stoker it is now adapted into its own complete standalone story. Now witness...The Lady in... [click here for more] | Caliber Comics | $1.99 |