Follow Your Favorites!
Sign in
to get custom notifications of new products!

Featured Product
Taken on the Run
by Mongoose

In the first hours of the Fifth Frontier War, Sublieutenant Leif Amsha is sent on a dangerous mission into a crippled Zhodani cruiser. He must lead his team through hotly contested corridors in search of intelligence on Zhodani intentions. The assault is tough but with his team more concerned with payback than the mission, getting back out again may not be an option.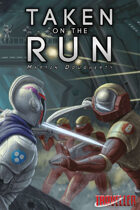 | Products found in this section... | Sort by: |
| --- | --- |
| | | |
| --- | --- | --- |
| Title | Publisher | Price |
| Dimenos was once an exclusive liner plying the spacelanes of the Reach. Now, after having been party to slave trading, she lies near-derelict at her moorings, stripped of her luxurious fittings and left to decay. When a pirate attack on Thebus highport forces five Travellers to take shelter in the wreck, they find themselves adrift aboard the dying ship. With no power, no weapons and no prospect... [click here for more] | Mongoose | $3.49 |
| In the first hours of the Fifth Frontier War, Sublieutenant Leif Amsha is sent on a dangerous mission into a crippled Zhodani cruiser. He must lead his team through hotly contested corridors in search of intelligence on Zhodani intentions. The assault is tough but with his team more concerned with payback than the mission, getting back out again may not be an option. ... [click here for more] | Mongoose | $3.49 |
| On Enemy Ground For weeks, the Garou, bestial werewolves who fight to save the natural world, have been fighting a losing battle against the minions of the vile Wyrm-spawn Jo'cllath'mattric. Now, at last, it is time to take the fight to the beast. In Tribe Novel: Silver Fangs, the warrior King Albrecht travels to Europe to rally the Garou forces but finds a cold welcome... [click here for more] | White Wolf | $2.99 $2.24 |
| For years, Jason Chase was at the head of the pack, shadowrunning with the best in the business. When time dulled his flesh and cybernetic edge, he knew it was time to get out, or get dead. Now, his past has come back to haunt him. To protect a young girl from the terrorists who want her dead, Chase must rely on his years of experience, and whatever his body has left to give. And everything he's got,... [click here for more] | Catalyst Game Labs | $4.99 |
| Take a short journey to adventure with Iron Kingdoms Excursions! Each season features six volumes, each containing three very short tales—1,500 words or less—about the people, creatures, and machines of Immoren. The Season One Collection gathers all eighteen previously released tales from the first season of Iron Kingdom Excursions into one book. Experience the Iron Kingdoms... [click here for more] | Privateer Press | $5.99 |
| Take a short journey to adventure with Iron Kingdoms Excursions! Each volume in this series features three very brief tales about the people, creatures, and machines of Immoren. Explore the Iron Kingdoms and all the alliances, betrayals, and bloodshed of a war-torn continent for only pocket change. In Iron Kingdoms Excursions: Season Two, Volume Three: Put your faith in the Creator of... [click here for more] | Privateer Press | $0.99 |
| Powerful, intelligent, ruthless... Servalan as a child, learning early about power and how to get it... Avon as a young man, finding ways to beat the system... Two sides of a coin, two lives on a collision course... The events on the Liberator are only a part of their story. Now it's time to find out how it started – and how it ends. Lucifer: Genesis is a compelling and vivid... [click here for more] | Untreed Reads Publishing | $7.49 |
| Many years have passed since the death of his companions on Gauda Prime, but Avon is still very much on the minds – and a thorn in the sides – of those in power. On the run in a stolen spaceship, Avon has world leaders, warlords, aliens, bandits and hitmen on his trail, all hoping to seize control of the super computer Orac, and to be rid of Avon once and for all. But those who underestimate... [click here for more] | Untreed Reads Publishing | $7.49 |
| The Iron Kingdoms is a land dominated by mighty warcasters, arcanists who command the terrifying war machines called warjacks. While these epic figures lead armies and shape the futures of their nations, other powerful individuals, no less skilled, forge their own destinies in steam and steel. Called to Battle, Volume Two is a collection of stories focused on the Iron Kingdoms' greatest... [click here for more] | Privateer Press | $4.99 |
| May, 1927 finds the combined crews of the airships Daedalus and Percival in coordinated pursuit of the Silver Star commando forces that murdered Duke's original crew and took Rivets hostage. Intervening in a tribal uprising in Kenya, "Captain Stratosphere" Jack McGraw & Dorothy "Doc" Starr find their replacement mechanic in the form of a young Kikuyu woman and technical prodigy.... [click here for more] | Deep7 | $3.49 |
| In Armageddon 2089, the weapon of choice is the warmek, a towering humanoid monster capable of taking the firepower of a tank unit any place an infantryman can go. Antimony Sun and Mongoose Publishing have teamed up to bring you the Armageddon 2089 Total Bundle! You get the Armageddon 2089 RPG, plus two supplements and both Armageddon 2089 novels by MJ Dougherty... [click here for more] | Antimony Sun | $27.95 $17.95 |