Follow Your Favorites!
Sign in
to get custom notifications of new products!

Featured Product
W20 The Poison Tree
by Onyx Path Publishing

Savannah is under siege.
For 20 years the minions of the Wyrm have threatened the Coastal Empire, checked only by the courage and cunning of the Shadow Lords. Every year, the septs of the Southern Protectorate send young warriors to aid in the defense and to prove their mettle in the pressure cooker of the port city.
It's not enough.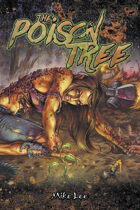 | Products found in this section... | Sort by: |
| --- | --- |
| | | |
| --- | --- | --- |
| Title | Publisher | Price |
| Step back into the Dark Ages... ...into a time when the clans, high and low, battle for blood and power. Welcome to The Cainite Conspiracies This collection of short stories inspired by the 20th Anniversary edition of Vampire: The Masquerade Dark Ages features tales by Vampire developers such as Justin Achilli, Eddy Webb, David A. Hill, Jr.,... [click here for more] | Onyx Path Publishing | $2.99 |
| The Created wake with a flash of lightning, a gush of water, or a mouthful of air. They stumble into life, knowing barely enough to play at being human. But human is exactly what they must become. The urges in their alchemical bodies, the marks left by the Prometheans preceding, and every instinct they possess, tells them that Humanity is the goal. Strive, learn, struggle, and reach the New Dawn.... [click here for more] | Onyx Path Publishing | $2.99 |
| The Garou's ancient struggle against the corruption of the world continues on, year after year, blow after blow. The names of the fallen outnumber the living. Their enemies are legion: vile subsidiaries of Pentex, Inc.; mutated Black Spiral Dancers; creatures warped beyond imagination by the taint of the Wyrm; and even, tragically, their own pride, long-held vendettas, and explosive rage. They... [click here for more] | Onyx Path Publishing | $4.99 |
| Savannah is under siege. For 20 years the minions of the Wyrm have threatened the Coastal Empire, checked only by the courage and cunning of the Shadow Lords. Every year, the septs of the Southern Protectorate send young warriors to aid in the defense and to prove their mettle in the pressure cooker of the port city. It's not enough. Every night, the Wyrm grows stronger,... [click here for more] | Onyx Path Publishing | $3.99 |
| Rawhead and bloody bones Steals naughty children from their homes, Takes them to his dirty den And they are never seen again. So says the nursery rhyme that gives birth to Rawhead, the most fearsome entity to imperil the living since the infamous Roller. Once an obedient mummy by name of Benefre, a desperate... [click here for more] | Onyx Path Publishing | $2.99 $1.79 |
| Something truly evil is stirring. Something cunning and malign, that threatens the living and the dead alike… Greek oracle and voodoo queen, FBI agent and young punk, Pretender's champion and heretic nun, wizened shaman and transsexual mage—many lives, many worlds, many goals… but one common enemy. Amidst the collision of ideals in the afterlife, a maelstrom forms. Who... [click here for more] | White Wolf | $11.99 $6.99 |
| Eight authors. Ten stories. A world of possibilities. The AEGISverse just got a lot bigger. Based on the setting and characters of Airship Daedalus, A.E.G.I.S. Tales collects exciting new works of fiction written in the style of the pulps from the 1920s & '30s. Thrill to the adventures of stunt pilot Wanda "Wings" Jensen, ghost hunters Jim Holland & Mandy... [click here for more] | Deep7 | $3.99 |
| A Complete Guide to Buffy the Vampire Slayer and Angel in Print, Film, Television, Comics, Games and Other Media, 1992-2010 This bibliographic guide covers the "Buffyverse"--the fictional worlds of the acclaimed television series Buffy the Vampire Slayer (1997-2003) and its spinoff Angel (1999-2004), as well as the original Buffy feature film of 1992. It is the largest... [click here for more] | McFarland | $35.00 $18.99 |
| A bald man with a bad memory wanders the Big Easy. The stranger needs a hand--but finds only the Black Hand, New Orleans' mafia. They've learned the stranger has escaped from a secret government program up north, and want to see if his weird abilities are a match for their rivals--the Red Sect! Memories of Yesterday is the third Dime Novel for Deadlands Noir. Written by John... [click here for more] | Pinnacle Entertainment | $3.99 $2.99 |
| A Tale of Weird Wars Rome Legionary Titus Aetius is tasked with hunting down a deserter, his best friend of a decade and fellow soldier. But Titus isn't the only hunter stalking the dark forests of Gaul. The deserter's trail disappears in a blood-soaked and empty village. Torn between honor and loyalty, Titus must find some way to outwit his officers, save his friend, and survive whatever... [click here for more] | Pinnacle Entertainment | $2.99 |
| "I'm a thousand years young, I've got a bod built for high-speed sin, and there's a whole universe out there which hasn't met me - so let's go!" Mutant. Vampire. Total babe! Former Search and Destroy Agent Durham Red is stranded over a thousand years into a future she doesn't want. To the mutant underclass, she's a messiah, a beacon of light to rally around. To humankind, she's a terrifying blasphemy... [click here for more] | Rebellion Publishing Ltd | $7.99 $5.99 |
| There is nothing to fear but fear herself... Mutant vampire Durham Red returns in this new chilling, gothic SF adventure. Danger threatens when Red discovers that a twisted future version of herself, the demonic Brite Red, is hunting her down. The only way she can survive is to get her hands on the terrifying alien artefact known as Manticore but, even then, can she destroy her own future? Mixing... [click here for more] | Rebellion Publishing Ltd | $5.99 |
| The galaxy's sexiest vampire is back! The most hunted woman in the galaxy has got a killer attitude... and one hell of a bite! The Encoded Heart continues the tale of bloodsucking vampire and sexy killing machine with attitude, Durham Red. Critically injured in battle, Red is spirited away by servants of the mysterious Magister of Cados, and taken to his vast citadel on the planet Magadan. However,... [click here for more] | Rebellion Publishing Ltd | $7.99 $5.99 |
| She's got a head for action and a body for sin! When a man named Dathan promises an end to the war between humans and mutants, Durham Red is desperate to help him. Cast adrift in a nightmarish future, the mutant vampire travels to this self-made prophet's side, eager for an end to the bloodshed. But when the darker side of Dathan's plans are revealed, only Red stands between him and a dark, bloody... [click here for more] | Rebellion Publishing Ltd | $5.99 |
| The final book in the Chronicles of Durham Red... Woken from 1,000 years in suspended animation, mutant vampire Durham Red has found that an entire religion has built up around her life. The mutants see her as a messiah, whilst the fanatical human Iconoclasts hunt her down as a heretic and abomination. After a failed attempt to get past an Iconoclast fleet, Red is forced to seek refuge on the planet... [click here for more] | Rebellion Publishing Ltd | $7.99 $5.99 |
| When a group of zombie hunters encounters a walker that's just a little too fresh, the fetchling ranger Sebesten discovers far more danger in the Outlands than he expected. Can he evade the dead that walk? Will he discover what terrible force is behind this menace—and can he make it back to Blackbat in time to warn the stronghold of the approaching horde? Find out more in this exciting new Shadowsfall... [click here for more] | Jon Brazer Enterprises | $1.00 |
| This is the first ever compilation on Internet television and provides details of 405 programs from 1998 to 2013. Each entry contains the storyline, descriptive episode listings, cast and crew lists, the official website and comments. An index of personnel and programs concludes the book. From Barry the Demon Hunter to Time Traveling Lesbian to Hamilton Carver, Zombie P.I., it is a previously... [click here for more] | McFarland | $39.95 $19.99 |
| Australia. The Outback. It was a cracked, red land. A cruel land, where tusked predator and prey locked in a cycle that predated man. It was in that land that the American conservationist, Beth Taylor, vanished. And where her husband must go to avenge her, to find the men who killed her, discover the way she was killed—and ultimately to learn the primitive ways of the razorback, the cruelest... [click here for more] | Untreed Reads Publishing | $4.99 |