Follow Your Favorites!
Sign in
to get custom notifications of new products!

Featured Product
Tales Out of Innsmouth
by Chaosium

A shadow hangs over Innsmouth, home of the mysterious deep ones, and the secretive Esoteric Order of Dagon. An air of mystery and fear looms... waiting. Now you can return to Innsmouth in this second collection of short stories about the children of Dagon.
Visit the undersea city of Y'ha-nthlei and discover the secrets of Father Dagon in this collection of stories.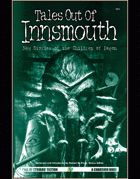 | Products found in this section... | Sort by: |
| --- | --- |
| | | |
| --- | --- | --- |
| Title | Publisher ▼ | Price |
| This volume collects 3 early science fiction stories by Philip K. Dick: "Piper in the Woods," "The Gun," and "The Skull." ... [click here for more] | Wildside Press | $2.99 |
| Sherlock Holmes Mystery Magazine #1 features fiction by Sir Arthur Conan Doyle, Carole Bugge, Ron Goulart, Marc Bilgrey, Edward D. Hoch, Hal Blythe, and Jean Paiva. Features by Kim Newman, Lenny Picker, Mrs Hudson, and Marvin Kaye. Edited by Marvin Kaye. ... [click here for more] | Wildside Press | $2.24 |
| THE KING IN YELLOW -- recently featured in HBO's hit series TRUE DETECTIVE -- is a collection of 10 short stories, the reading of which will curse one to a terrible fate. You have been warned! This edition features an introduction by H.P. Lovecraft. Note: This digital edition includes the PDF, ePub and Mobi (Kindle) versions of the book. ... [click here for more] | Wildside Press | $0.99 |
| Beneath the trackless sands and shifting wastelands of the Sahara lies a world unknown to modern man: the underground world of Zanthodon. In its vast unmapped terrain are great jungles, strange seas, and forbidding mountains...and here can be found many of beings long since vanished from the surface of the Earth: dinosaurs, flying monsters, and primitive cavemen. Join Eric Carstairs as he explores... [click here for more] | Wildside Press | $0.99 |
| It doesn't end with death. David Robinson's life has taken several turns for the worse: first his daughter dies, then his marriage crumbles and his career as a mystery writer falls apart. But after he is killed in a hit-and-run accident, David quickly learns that he will face his most harrowing challenges - as a Wraith in the Shadowlands. Unable to contact or influence the world of the living, David's... [click here for more] | White Wolf | $4.99 |
| BOOK OF THE KINDRED is the sourcebook for VAMPIRE: THE MASQUERADE, created by Mark Rein-Hagen, co producer of TV's KINDRED: THE EMBRACED. It tells the tale of the Kindred from the legends of ancient times to the harsh realities of modern nights. It investigates mysteries and reveals secrets that... [click here for more] | White Wolf | $4.99 |
| PENNY DREADFUL A Mage: The Ascension Novel By Kevin Andrew Murphy Penelope Anne Drizkowski-Penny Dreadful to her friends-leads an interesting life, but it's starting to get just a bit too interesting. First off, a young lady has enough trouble fending off unwanted advances, but what is one to do when they're from vampires? What about werewolves? Then again, most girls aren't witches.... [click here for more] | White Wolf | $3.99 |
| "I shall sleep but not rest." Slain by his enemies and cursed by God, Vlad Dracula arose from the battlefield as a ravening beast, hungry for the blood of men. For centuries the son of the Dragon has haunted the earth, driven by an implacable will to unravel the mysteries of the Embrace and to master them. The Requiem is no mournful elegy to one such as the Impaler. It is the riddle... [click here for more] | White Wolf | $4.99 |
| Follow the artistic development of the Exalted roleplaying game all the way from its unused concept art to its current second edition splendor. Along the way, you'll see the world of Exalted brought to life through the talents of the industry's top artists, including Chris Stevens, Hyung-Tae Kim, Adam Warren and many, many more. Within, lavish, full-color art combines... [click here for more] | White Wolf | $19.99 $9.99 |
| This three volume epic reveals the rise of an ancient power thaqt threatens to forever alter the World of Darkness... the immortal beings known as mummies. This product contains links to all three of the Year of the Scarab Trilogy books: Volume 1 - Heralds of the Storm Volume 2 - Lay Down with Lions Volume 3 - Land of the Dead ... [click here for more] | White Wolf | $19.50 $2.99 |
| Take one part bloodsucker, one part magician, one part ruthless huntress, and throw in a little bondage. What do you get? An all-out battle where arrows fly, teeth gnash, and magic spells clash. Who will survive? Find out in "50 Shades of the Twilight Games," the new graphic novel parody from Bluewater Productions. ... [click here for more] | TidalWave Productions | $9.99 $5.99 |
| This is the classic horror story; Dracula, by Bram Stoker. This novel spawned an entire generation of vampire tales; brought to you by Stardust Publications. ... [click here for more] | Stardust Publications | $6.00 |
| This is a Collection of Tales by Edgar Allan Poe, presented by Stardust Publications. The Tales included are; The Fall of the House of Usher, The Premature Burial, The Murders in the Rue Morgue, The Masque of the Red Death, The Pit and the Pendulum, The Tell-Tale Heart & More! ... [click here for more] | Stardust Publications | $6.00 |
| One-of-a-kind reference book for authors, publishers, game designers, researchers, vampire enthusiasts, and historians worldwide "An amazing collection of vampires and vampire lore, and a fantastic resource for fans, researchers, and writers. I love it!" -Rosemary Ellen Guiley Author, The Encyclopedia of Vampires, Werewolves, and Other Monsters "This book... [click here for more] | Scaldcrow Games | $39.95 $17.99 |
| Portals. Interstellar gateways across time and space that lead to other worlds. For Captain Lance Wilkins, jumping through time and space is just another day on the job. For his Telesma however, this job isn't like every other. This time, fate has something else in store for Captain Lance Wilkins, she can feel it..... Join Lance and Telesma in this whirlwind tale of interstellar proportions set... [click here for more] | Savage Mojo | $1.99 |
| In 1944, as waves of German ninjas parachute into Kent, Britain's best hopes for victory lie with a Spitfire pilot codenamed 'Ack-Ack Macaque.' The trouble is, Ack-Ack Macaque is a cynical, one-eyed, cigar-chomping monkey, and he's starting to doubt everything, including his own existence. A century later, in a world where France and Great Britain merged in the late 1950s and... [click here for more] | Rebellion Publishing Ltd | $8.99 $6.99 |
| ONCE, TWICE, THREE TIMES A MONKEY Life is good for Ack-Ack Macaque. Every day the cynical, cigar-chomping, hard-drinking monkey climbs into his Spitfire to do battle with the waves of German ninjas parachuting over the gentle fields of Kent. But life is not all the joyous rattle of machine guns and the roar of the engine, as Ack-Ack is about to find out… Because it is not 1944. It is the 21st... [click here for more] | Rebellion Publishing Ltd | $9.99 |
| "The keesh-eater collapsed into a nerveless heap, smearing a thin trail of blood down the pillar. Armitage watched him until he was sure he wouldn't move, then rounded, scowling, on the uniformed Judges. 'You think you can clean this up noe, or do I have to do everything?'" Travelling to Brit-Cit on the trail of a bloodthirsty, body-hopping alien, Judge Dredd is forced to work with Detective Judge... [click here for more] | Rebellion Publishing Ltd | $5.99 |
| INFINITE MONKEYS He's saved the world twice. Now the dangerous but charismatic Ack-Ack Macaque finds himself leading a dimension-hopping band of angry monkeys, facing an invading horde of implacable killer androids, and confronting the one challenge for which he was never prepared: impending fatherhood! Meanwhile, former journalist Victoria Valois finds herself facing old enemies as she fights... [click here for more] | Rebellion Publishing Ltd | $6.99 $4.68 |
| She knows what you're thinking... In a bleak future overrun with crime, Psi-Judge Cassandra Anderson and the PSI Division utilise their extraordinary abilities to protect the city from dangerous psychic criminals. Six felons have died in Sector House 12 - burned to death in the holding-cubes in mysterious circumstances. Called in to psychically read the crime scene, Psi-Judge Anderson encounters... [click here for more] | Rebellion Publishing Ltd | $7.99 $5.99 |
| This is the future of horror! Editor Jonathan Oliver, fast becoming the most exciting new anthologist of the weird and horrific, here brings together three of his award-winning anthologies for Solaris. Here are House of Fear, Magic and End of the Road, showcasing forty-nine stories by the most important and ground-breaking names in genre fiction, including AUDREY NIFFENEGGER • CHRISTOPHER... [click here for more] | Rebellion Publishing Ltd | $9.99 |
| An Ancient City Holds an Ancient Secret! The year 40AD is drawing to a close, the last gasp of Caligula's demented reign. Rome dominates the world, but something is festering at the heart of the Empire. Slaves are disappearing, the bodies of the dead are being stolen and mysterious shipments arrive from Egypt in the dead of night. Barbarian gladiator Boda was brought to Rome in chains as a prisoner... [click here for more] | Rebellion Publishing Ltd | $5.99 |
| From the depths they rose... Orders to chase down the French frigate Elita off the Cape of Good Hope came as welcome news to Captain Havelock. Stranded with the rest of the fleet at Spithead while waiting for France to initiate hostilities was an unwelcome duty for any up and coming officer. Here was a chance for glory - and prize money! The duel would prove to be far from easy though. Very soon,... [click here for more] | Rebellion Publishing Ltd | $7.99 $5.99 |
| A VAMPIRE IN ZOMBIELAND Coburn's been dead now for close to a century, but seeing as how he's a vampire and all, it doesn't much bother him. Or at least it didn't, not until he awoke from a forced five-year slumber to discover that most of human civilization was now dead - but not dead like him, oh no. See, Coburn likes blood. The rest of the walking dead, they like flesh. He's smart. Them, not... [click here for more] | Rebellion Publishing Ltd | $9.99 $5.99 |
| "My name is John Doe. I've been dead for ten years." I have no heartbeat, no breath, no smell, just cold, clammy flesh animated by something I don't understand. So I sell my dead flesh to the highest bidder. If the price is right, I'll kill for you, steal for you, or save your life for you. There's no mystery you can't hire me to solve... apart from this one. The bent copper torn apart... [click here for more] | Rebellion Publishing Ltd | $12.95 $5.99 |
| The world of Twilight turns in the darkness, illuminated by the ethereal glow of the god-planet, Kerberos. This is a world of heroes and monsters, in which four unique individuals stand against the end of everything. One such man is Lucius Kane, a rogue born into thievery when his family is destroyed by war. On the hard streets of Turnitia, ruled over by a fearsome army and a corrupt priesthood,... [click here for more] | Rebellion Publishing Ltd | $12.99 $9.99 |
| People often say that there are no such things as monsters. They are wrong. Vampires, werewolves, ghosts, and other unnamable horrors co-exist with us. Watching us. Using us. Preying upon us. Welcome to Pinebox, a sleepy little East Texas town with a lot more than its share of trouble. Whether it's the haunted diner luring weary travelers, the unexplained 'alligator attacks", or the crone who... [click here for more] | Pinnacle Entertainment | $4.99 |
| This short thriller is told entirely in phone texts. A group of friends are hiking Mt. Rainier when something goes horribly wrong. At first it seems some members of the party suffered terrible accidents, but as the police recover their cell phones and begin to piece together their text messages, a very different story emerges. For Mature Readers, contains some strong language. Texter was written... [click here for more] | Pinnacle Entertainment | $2.99 $0.99 |
| A 21st CENTURY BESTIARY The magic of bestiaries, or dictionaries of mythological creatures, has been captivating the human imagination since ancient times. Now, Stone Skin Press brings a fresh take on these compendiums of the fantastic with its latest anthology—Gods, Memes and Monsters. Featuring over sixty authors, this stunning international volume offers entries and short stories that range... [click here for more] | Pelgrane Press | $6.40 |
| EIGHTEEN WHISPERS TO THE DARKNESS 'The oldest and strongest emotion of mankind is fear, and the oldest and strongest kind of fear is fear of the unknown.' So begins H. P. Lovecraft's essay "Supernatural Horror in Literature," arguably the most important analysis of horror ever written. Yet while hordes of writers have created works based on Lovecraft's... [click here for more] | Pelgrane Press | $6.40 |
| What hope has a humble adventurer when faced with a fight against Cthulhu himself? No matter; the true swordsperson cares only for the bite of steel against flesh, whether that flesh be eldritch or more conventional. So, grab your khukuri knife, your iklwa spear, or a legendary blade and journey with us from ancient Rome to feudal Japan, from the Dreamlands to lands there are no names for in any of... [click here for more] | Pelgrane Press | $6.40 |
| A Man Without A Past Cipher is a monk: a master of the Deadly Arts, able to dismantle enemies using his bare hands. He is immune to lies, and can see volumes of information in the smallest detail. Unfortunately, that's all he knows. His real name, his history – all stolen by an unknown foe. Without memory or purpose, Cipher can only follow his instinct to find bad people, and hit them... [click here for more] | Pelgrane Press | $5.57 |
| Every generation fits the time-honored constants of the hero tale to its own needs. Today's serial adventurers, whether they burst from re-envisioned histories or ply the humming foredecks of an imagined future, ride a cresting cultural wave. Through thirteen thrilling stories of threatened identity and vanquished disorder, The New Hero 2's diverse cast of top writers slices, dices and... [click here for more] | Pelgrane Press | $6.40 |
| No one would suspect that Ariadne, the cold and deadly "Silent Knife" of Prince Liliane, was once a sensitive college girl who preferred books to blades. But that life ended when her lover Andre cast her aside, into the waiting fangs of an unknown Sire who fled after the Embrace. Re-shaped by her Prince's cruel tutelage, Ariadne has fought hard to earn her place in Liliane's... [click here for more] | Onyx Path Publishing | $4.99 |
| Walk through the ages... As a companion to Chronicles of Darkness: Dark Eras this anthology reveals secrets of the mystics, whispers rumors of the dead, and shines a light into the darkest corners of the world. This collection includes historical stories based within the shadowed past of Vampire: the Requiem, Mage: the Awakening, Werewolf: the Forsaken,... [click here for more] | Onyx Path Publishing | $2.99 |
| Unseen. The Kindred Move Among Us Not merely mad beasts of lonely hunters, the vampires of the World of Darkness who call themselves The Kindred because of the blood that elementally binds them together, are dnagerously organized and cunning. They hide behind a plan they call the Masquerade so that they do not draw the attention or ire of mortals, and the society this masquerade... [click here for more] | Onyx Path Publishing | $3.99 |
| In 2004, the World of Darkness Rulebook introduced a concept that intrigued, tantalized and inspired readers and players, and left them with the question: What is the God-Machine? You hold in your hands the book that might answer that question...or might simply complicate it. The God-Machine Chronicle Anthology contains new fiction by Justin Achilli, Eddy Webb, Stew Wilson, David... [click here for more] | Onyx Path Publishing | $2.99 |
| "...an urban fantasy thrill ride." --San Francisco Book Review 2076 is not a good year to be a special agent. A quarter of the world's power runs on ceridium, a newly discovered element that has had the unintended consequence of spawning a new race of people, and several forms of magic that were once thought to have been forgotten. Eskander Aradowsi is an agent of NIGHT, a paramilitary force created... [click here for more] | Nightpath Publishing | $9.99 $4.99 |
| Follow Edgar Allan Poe, Abe Lincoln, and Charles Darwin as three children with incredible destinies who find themselves kidnapped by a dimension-traveling cowboy, The White Pope, who wants to nip their futures in the bud. Hurried away to meet the Princess of Avalon - they discover just how extraordinary the world really is! Angel Leigh McCoy shines in this first novelette from Nevermet Press that includes... [click here for more] | Nevermet Press | $1.50 $1.01 |
| Stories in the Ether is a quarterly storytelling anthology of fantasy, steampunk, and science fiction short stories from Nevermet Press. This issue features 13 compelling works by Therese Arkenberg, David Bell, Charlie Britten, Matt Delman, Tim Kane, KA Masters, David Perlmutter, Gary Phillips, Michael Morrison, Jason Rolfe, Dawn Vogel, David Wright, and Lee Clarke Zumpe. Artwork inspired by... [click here for more] | Nevermet Press | $2.99 $1.50 |
| Stories in the Ether is a digital story telling anthology of fantasy, steampunk, and science fiction short stories from Nevermet Press. Issue 2 features nine compelling works by Marissa Wolden, Ian Vassilaros, Jim Reader, Sevan Taylor, Craig Comer, Paul Jones, Tucker Cummings, Michael Burnside, and Alexander B. Joy. Illustrations by Paul Hagwood, Rob Torno, Kenya Ferrand, and Matt Lichtenwalner.... [click here for more] | Nevermet Press | $2.99 $1.50 |
| Stories in the Ether is a digital story telling anthology of fantasy, steampunk, and science fiction short stories from Nevermet Press. Issue 2 features nine compelling works by Marissa Wolden, Ian Vassilaros, Jim Reader, Sevan Taylor, Craig Comer, Paul Jones, Tucker Cummings, Michael Burnside, and Alexander B. Joy. Illustrations by Paul Hagwood, Rob Torno, Kenya Ferrand, and Matt Lichtenwalner.... [click here for more] | Nevermet Press | $1.50 $1.01 |
| Stories in the Ether is a quarterly story telling anthology of fantasy, steampunk, and science fiction short stories from Nevermet Press. This issue features 12 compelling works including: Iron Butterfly, by Marie Andrews Brick Jackson Returns to the Land that Time Forgot, by Ian Toltz Unfamiliar Territory, by Gary Watkins Cruise of the Lightship Venture, by... [click here for more] | Nevermet Press | $2.99 $1.50 |
| Stories in the Ether is a quarterly story telling anthology of fantasy, steampunk, and science fiction short stories from Nevermet Press. This issue features 11 compelling short stories, including: The Gorgon's Love, by Martin Shelby The Stars at Night, by JC Hemphill Big Heart, by David J. Fielding The Chase, by J. A. Gonzales A New Beginning, by Colin W. Campbell The Mechanical... [click here for more] | Nevermet Press | $2.99 $1.50 |
| An original novel, with spot illustrations, that teams up Kolchak, Johnny Dollar, Boston Blackie, Candy Matson, Pat Novak, Blackshirt, Lai Wan, and Jack Hagee, and Mr Keen all in one great adventure! In the final days of WW2, a sinister plan to defeat the allies using black sorcery orig price thwarted, only to be resurrected today in a form even more terrible than before. Now, over six turbulent... [click here for more] | Moonstone | $4.99 $2.99 |
| A monster/horror prose fiction anthology featuring our favorite ferocious and furry fiends, werewolves! The blood will run red in the dead of night as both horror-fiction and comic book writers alike unite to bring you an unlucky 13 chilling tales of howling horror. With stories by Elaine Bergstrom, Tom DeFalco, Dave Dorman, Clay Griffith, William R. Halliar, C.J. Henderson, David Michelinie, Christopher... [click here for more] | Moonstone | $4.99 $2.99 |
| More Beauty, Wonder, and Weirdness of the Ninth World Life after death, time travel, teleportation. The things that are impossible now—these are things that aren't just possible in the Ninth World, but probable. It doesn't matter whether you're a noble, a thief, a tinkerer, or a serial killer, when you come face to face with impossibilities becoming realities, you... [click here for more] | Monte Cook Games | $2.99 |
| The Crystal Void by John Houlihan This includes the PDF of the Crystal Void Illustrated edition The year is 1810 and as Napoleon's Grand Armee chases Wellington's expeditionary force through Portugal to the lines of Torres Verdras, the dashing if rather dim French Hussar Gaston d'Bois is astonished to encounter the love of his life. But the fragrant Odette is soon swept... [click here for more] | Modiphius | $2.99 |
| For more than 60 years, Captain America was one of Marvel Comics' flagship characters, representing truth, strength, liberty, and justice. The assassination of his alter ego, Steve Rogers, rocked the comic world, leaving numerous questions about his life and death. This book discusses topics including the representation of Nazi Germany in Captain America Comics from the 1940s to the 1960s; the creation... [click here for more] | McFarland | $35.00 $14.99 |
| The Multifarious Walking Dead in the 21st Century Since the early 2000s, popular culture has experienced a "Zombie Renaissance," beginning in film and expanding into books, television, video games, theatre productions, phone apps, collectibles and toys. Zombies have become allegorical figures embodying cultural anxieties, but they also serve as models for concepts in economics, political... [click here for more] | McFarland | $25.00 $14.99 |