Follow Your Favorites!
Sign in
to get custom notifications of new products!

Featured Product
The Antarktos Cycle
by Chaosium

Horror and Wonder at the Ends of the Earth

The frozen wastes of Antarctica hold many secrets mankind is not meant to discover. This Cyclopean Call of Cthulhu fiction anthology includes "At The Mountains of Madness" by H.P. Lovecraft as well as works by Edgar Allan Poe, John W. Campbell JR., Arthur C. Clarke, John Taine, and other bold explorers.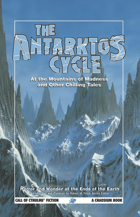 | Products found in this section... | Sort by: |
| --- | --- |
| | | |
| --- | --- | --- |
| Title | Publisher | Price |
| It's the classic tale — but not exactly the way you remember it… Paris, France. 1625.  A young woman named d'Artagnan bears the heart and  the blade of a musketeer, but must prove herself  before she can earn her rank and uniform. The spy and assassin Milord de Winter advances an agenda of villainy and unbridled ambition, and will destroy... [click here for more] | Insane Angel Studios | $44.99 |
| Horror and Wonder at the Ends of the Earth ". . . They rose grimly into the western sky; allowing us to distinguish various bare, bleak, blackish summits, and to catch the curious sense of fantasy which they inspired as seen . . . against the provocative background of iridescent  ice-dust clouds. In the whole spectacle there was a persistent, pervasive hint of stupendous secrecy and potential... [click here for more] | Chaosium | $20.77 |
| Early Tales of the Cthulhu Mythos by the Author of Psycho "H.P. Lovecraft — like his creation, Cthulhu — never truly died. He and his influence live on, in the work of so many of us who were his friends and acolytes. Today we have reason for rejoycing in the widespread revival of his canon. . . . If a volume such as this has any justification for its existence, it's because... [click here for more] | Chaosium | $13.47 |
| Ten insightful science fiction tales from one of British sci-fi and fantasy's most intriguing authors. John Houlihan is best known for his Cthulhu mythos and historical fantasy series, but this is his first major collection of sci-fi stories, including debut play, Bomber Command. In Most Exalted, plunge into the starchy corridors of a veteran's care home, where a former intergalactic tyrant... [click here for more] | Modiphius | $10.99 |
| The Viking tales of gods, giants and heroes come alive within the pages of the Illuminated Edda. Visit the majestic city of Asgard- home of the gods. Fight legendary dragons alongside Sigurd, renowned hero. Witness the creation of the world tree Yggdrasil along with the awesome worlds that hang upon its branches. Get entwined in Loki's schemes as he saves the gods from disaster, and then witness... [click here for more] | Pendelhaven | $44.98 |
| Although his body is destroyed, Dracula's dark spirit survives, and only his last remaining "Bride of Dracula," the Countess Dracule can avenge and save him – as she arrives in London to take brutal vengeance against the Hunters and their families. With un-living allies including the late Renfield beside her, the Countess is ready for war. But her opposition is fragmented, with Seward in love... [click here for more] | AAM Markosia | $18.99 $17.00 |
| The sun and moon have been devoured by the cosmic wolves Skoll and Hati. Fimbulwinter has envelopped the world in the cold and darkness. Men prey on each other in order to survive. Amid the chaos, in the struggle for the throne, comes a war between brothers. Hakon, illegitimate heir to the throne of Norveig, has obtained a horn that can summon a terror from the depths of the ocean. This monstrosity... [click here for more] | Pendelhaven | $24.98 |
| Revenge comes on the black wings of seith magic. Steinarr the Neibelung is killed, leaving the thralls Vanadis and Gamli as the sole survivors. When Steinarr's nephew, Hardegon the Trusted, stumbles upon his town's gruesome remains, when he discovers the thralls' Volsung roots, it rekindles an ancient feud. Vanadis and Gamli flee Hardegon's wrath, sailing on winds that take them from the shores... [click here for more] | Pendelhaven | $24.98 |
| The Enchiridion, or Hero's Handbook, is an ancient Stoic tome of wisdom, now available in this new, illustrated translation, in modern, conversational English. This 2nd century guide to living the good life consists of 52 timeless lessons, ranging from how to deal with the death of a loved one, to whether or not to catcall women (spoiler: don't). This translation is available as a free PDF, or as... [click here for more] | Sixpence Games | $39.99 |