Follow Your Favorites!
Sign in
to get custom notifications of new products!

Featured Product
Lament of Midnight
by Dark Gatekeeper Gaming

Listed as one of Jessica Lucci's "Top 10 best of 2019"

Some dolls just can't be saved.
Two short and twisted tales entwine with a body of dark poetry in the latest book from Ashley Grant.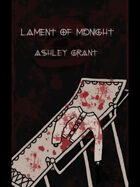 | Products found in this section... | Sort by: |
| --- | --- |
| | | |
| --- | --- | --- |
| Title | Publisher | Price |
| Listed as one of Jessica Lucci's "Top 10 Best of 2019"! Some dolls just can't be saved. Two short and twisted tales entwine with a body of dark poetry in the latest book from Ashley Grant. In "Poor Dolly", a cherished toy watches from the shelf as a looming... [click here for more] | Dark Gatekeeper Gaming | $7.99 |
| Welcome to the Rocket Age! Inside you will find four stories from a Solar System that never was and a 1938 that should have been. Journey to Mars, scour the vastness of space, and face impossible odds battling criminals, rouge princes, and Nazis! Three Aces for the Dancer by Ed Greenwood The Ghost Aces, an elite team of operatives, must lose a rocket ship, but not... [click here for more] | Why Not Games | $8.99 |
| The long-awaited return of the Green Hornet & Kato and their rolling arsenal the Black Beauty! Moonstone is proud to present The Green Hornet Chronicles, the first anthology featuring all-new, original crime fiction tales of the man who hunts the biggest of all game, public enemies that even the FBI can't reach! It's the mid 1960's, the political climate is shakey, there's... [click here for more] | Moonstone | $13.04 |
| A mystery hero like no other... with the most dangerous weapon of all... Los Angeles, 1930s. The city of angels. Attracting beautiful people from all over the world with its glitz and glamour. But just beneath the surface is a city stinking of corruption with criminal bosses and politicians squeezing the life out of the city. Stunned and enraged by the murder of her crusading politician father,... [click here for more] | Moonstone | $14.99 |
| More just than the law, more dangerous than the Underworld... hated, feared, and wanted by both. One cloaked, fanged, border-line crazy denizen of the dark force-feeding hard justice with a pair of 45's! Moonstone is proud to present 19 new short stories of searing white hot prose starring pulpdom's most violent and ruthless crime fighter ever: THE SPIDER! Here you will find relentless,... [click here for more] | Moonstone | $12.99 |
| Welcome to the world of Apocalypse Prevention, Inc. This 9 story anthology lets you experience the mystery through the eyes of those that live in it. Take a walk on the wild side of magic, monster hunting and demons lurking around every corner. From the minds of RPG industry favorites and newcomers alike. Brennan Bishop Clint Black Stacey Gossett Mark Hall Josh Hilden Lyndsey Holder John... [click here for more] | Third Eye Games | $9.99 |
| To the common, human men and women of Grimaton, the central continent on which they live is the only world they know. But King Stewart has long been aware of other, smaller continents surrounding the one he seeks to control. "The Isles Seven" his advisers call them. Tabs are, of course, kept on the activities across each of the isles, but a rash of recent and strange occurrences on one in particular... [click here for more] | Samurai Sheepdog | $15.99 |