Follow Your Favorites!
Sign in
to get custom notifications of new products!

Featured Product
Orpheus: Haunting the Dead (Novel)
by White Wolf
Death is no longer absolute - the men and women of Orpheus can see past the veil into the underworld. Their numbers include mediums, spirit-talkers and even actual ghosts. For a price, they'll cross the veil for you, to resolve lost causes or quiet restless spirits. But be careful, for the dead aren't to be trifled with, and in the end your payment may come in blood.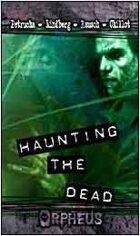 | Products found in this section... | Sort by: |
| --- | --- |
| | | |
| --- | --- | --- |
| Title | Publisher | Price ▲ |
| A Reaper of Stone is the thrilling first novella of the fantasy series of the same name. It is a rich, twisting tale with all the elements of a classic, epic fantasy story. Reviewers compare it to Game of Thrones and the works of Joe Abercrombie. It is recommended for readers who enjoy epic fantasy, myth and legend, and/or stories with a strong female protagonist. A Lady is dead. Her... [click here for more] | Gelineau and King | FREE |
| The first in a fantasy series of dark fairytale stories, The Winter King. Stories in this series can be read as stand-alone pieces, but also weave together to form a broad plot arc. ... [click here for more] | Hob Goodfellowe | FREE |
| Things have a tendency to go wrong around privileged Twy and the whirlwind of violence that is Bess. But can they hold it together for one fancy date at the hottest eatery around, on the most romantic day of the year? Probably not, but as they say, it's how you respond to adversity--or the bar fight your girlfriend starts because she's bored--that defines your character. And these two certainly have... [click here for more] | Green Ronin Publishing | FREE |
| John Fortune is a street kid made good. Thanks to a genius for maths and physics, he carves out a successful career in interstellar engineering. But there's something not quite right about John. Something not quite human. His one true friend, Frank Patterson, is sure he knows the secret. Frank can't afford to be wrong. Mankind's survival depends on it. This 10,000 word short SF story/novella is... [click here for more] | Envious Publishing | $0.99 |
| On October 2. 1936. the SS Orient Princess, a vessel of some 8,000 tons, put into Valparaiso carrying a cargo of timber and crude rubber from the Dutch East Indies. Immediately upon arrival, her captain, one Willem van Groot, was met by two members of the local police and Professor Thomas Wilmerson of Miskatonic University, the latter having flown to Chile in response to an urgent radio message sent... [click here for more] | Wildside Press | $0.99 |
| Available in EPUB, HTML, LIT, MOBI, PDB and PDF formats. Tired of war and killing, Earth's Global Director Alexa Lange has developed a method of creating world peace by altering the population's brainwave activity. Assisted by her hyper-intelligent and quirky helper Jonas, Alexa is excited that her plan is becoming a reality. That is, until something goes terribly wrong. A sci-fi novella. ... [click here for more] | Untreed Reads Publishing | $1.50 |
| Johnson Meets Street Mr. Johnson. You know the name. You probably know the face—smooth, implacable, professional. He's got the nuyen and resources you want, and he knows it. He may not have your skills, but he doesn't care. That's what he has the nuyen for—so he can buy yours. He's corporate through and through, and you can't ever forget that, because if you do, that's when... [click here for more] | Catalyst Game Labs | $1.99 $1.33 |
| STM: A Steampunk Fairy Tale A factory worker discovers a pathway to another life outside of her marshmallow toasting drudgery. 23 Pages The Chocolate Blunderbuss and Ostrich Speeders The crew of the MLA lands in a place of metal trees and lost villagers. They must fight a slew of lumberjacks, fire spitting camels and oddities to replace their ship and save the land from poisoning. Est. 40 pages.... [click here for more] | N. R. Grabe | $1.99 |
| Meet Denderin, an 18 year old, swift learner, who has no idea what he wants to do with his life. His family wants him to continue the family farm, he went to university instead, barely graduating. He later determined that isn't what he wanted to do with his life either! In and out of jobs, he lives a life with an unsure future. How can he support himself with no income? How can he live without... [click here for more] | Dave Gregoire | Pay What You Want |
| The study of antiquities is no fit activity for a lady, according to Amaryllis Raven's guardians, the aunt and uncle who took her in after her father's death. Yet her Aunt Sessiletyn makes no effort to introduce her to the ton. Heir to a marquessate, Chaunce Boothsby would rather dig for buried Roman ruins than play a man-about-town. They might never have met, but for a duck-chasing dog. Before long... [click here for more] | Untreed Reads Publishing | $2.99 |
| THERE HAVE BEEN EIGHT PREVIOUS WORLDS. Each world stretched across vast millennia of time. Each played host to a race whose civilizations rose to supremacy but eventually died or scattered, disappeared or transcended. During the time that each world flourished, those that ruled it spoke to the stars, reengineered their physical bodies, and mastered form and essence, all in their own... [click here for more] | Monte Cook Games | $2.99 $2.00 |
| Natalie Dane is struggling. Against the advice of friends and family, she embraced selling real estate, a career that's gone nowhere fast. In fact, the owners of her agency have issued an ultimatum: sell the McAdoo House or clear out your office. The problem? The structure in question is over one-hundred-years old, seriously run down, and, according to potential buyers, has an odd feel to it. Enter... [click here for more] | Untreed Reads Publishing | $2.99 |
| How do you repair a dead planet? Maintenance Bot M-3 was always proud of the smooth and reliable operation of the starships it maintained, as they roamed the galaxy searching for life on unexplored worlds. It lived for the desperate struggle against the forces of chaos and decay, fighting against time to complete repairs before disaster struck. But this job may be beyond even its capabilities.... [click here for more] | Banchixi Media | $2.99 |
| The end is here. The dead walk and the living are on the brink of extinction. Brad and Travis, part of a military search and rescue operation, race against time to evacuate survivors from Seattle, Washington. When the emergency shelter becomes overrun they are re-routed to a secret base, a code Majestic base, in the Canadian Arctic to await rendezvous. Between the isolation, rising tensions,... [click here for more] | John Grover | $2.99 |
| Deals with the Dead Death is no longer absolute - the men and women of Orpheus can see past the veil into the underworld. Their numbers include mediums, spirit-talkers and even actual ghosts. For a price, they'll cross the veil for you, to resolve lost causes or quiet restless spirits. But be careful, for the dead aren't to be trifled with, and in the end your payment may come in blood. Four Times... [click here for more] | White Wolf | $2.99 |
| Tired of healing wounded soldiers on the borders of the British Empire, Silas Cane returns to the heartlands of Victorian England as a rural doctor. The quiet Oxfordshire village is a welcome break from the chaos of war, until a smiling madman dies of a disease never seen before. After watching so many men die, Cane will do whatever it takes to keep the villagers alive. If they don't kill him first.... [click here for more] | Banchixi Media | $2.99 |
| One traumatic night changed it all. One night changed Kember's life forver, forcing her to spend years adapting to the forest surrounding her family's destroyed carnival. Kember is reintroduced to society as an adult, determined to find out what happened the night of her father's murder. Little does she know, she will have both human and supernatural aid on her quest to discover the truth. As a familiar... [click here for more] | Dark Gatekeeper Gaming | $2.99 |
| The age-old question about alien existence and human contact is explored in a new way in this collection of six novellas, previously anthologized in Analog magazine. When disillusioned aerospace engineer Adrian Mast buys a book at a remainder sale, the last things he expects to find in its appendix are alien spacecraft designs. With the help of the bookstore owner, Adrian tracks down the authoronly... [click here for more] | Untreed Reads Publishing | $4.96 $3.32 |
| Sam MacHorne and her Devil Dogs need a contract, and when one comes in that leads to the haunted Wythmoor Forest, the company moves out with warjacks and slug guns at the ready... Sam and the Devil Dogs may be relaxing in Tarna, but it's not by choice—they'd rather be employed. When a dangerous job offer comes from the old man, Sam takes the Devil Dogs and their newest... [click here for more] | Privateer Press | $4.99 |