Follow Your Favorites!
Sign in
to get custom notifications of new products!

Featured Product
KOBOLD Guide to Dungeons
by Kobold Press
Dungeons Are Half the Game
You can't control what players are going to do, but you can control where they do it.
Kobold Guide to Dungeons gives every GM techniques to making dungeons great, from D&D founders David "Zeb" Cook, Frank Mentzer, and Lawrence Schick as well as new voices like Sadie Lowry and Erin Roberts.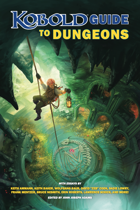 | Products found in this section... | Sort by: |
| --- | --- |
| | | |
| --- | --- | --- |
| Title | Publisher | Price |
| Learn to Build Worlds with Titans of Fantasy and Tabletop! The Kobold Guide to Worldbuilding, Volume 2, features 15 stars of tabletop roleplaying games and fantasy fiction, including Gail Simone, Keith Baker, Veronica Roth, Ken Liu, Kate Elliott, Mike Shea, Tobias S. Buckell, Shanna Germain, Gabe Hicks, the Dungeon Dudes (Monty Martin & Kelly McLaughlin), Jeff Grubb, and more. Middle-Earth,... [click here for more] | Kobold Press | $14.99 |
| The Wild West was wilder than you can imagine  As European settlers moved west across the burgeoning United States, the Changing Breeds moved west with them, seeking new opportunities and places to live in peace. The Wyrm moved west as well. In some cases, it had already been there for a long, long time.  In the never-ending struggle against the Wyrm, the Changing Breeds will find new allies,... [click here for more] | White Wolf | $6.00 |
| Shadows Run Deep There is a taint in Chicago, a barely suppressed shiver of horror that touches all who make their home in the city. In this collection of three connected novellas, vampire, werewolves and mages all pursue their visions of power. Each novella tells part of the story of the hidden monsters of the Windy City. A World of Darkness® Novel Author Janet... [click here for more] | White Wolf | $4.99 |
| BOOK OF THE KINDRED is the sourcebook for VAMPIRE: THE MASQUERADE, created by Mark Rein-Hagen, co producer of TV's KINDRED: THE EMBRACED. It tells the tale of the Kindred from the legends of ancient times to the harsh realities of modern nights.  It investigates mysteries and reveals secrets that... [click here for more] | White Wolf | $4.99 |
| The pulp magazines of the early to mid 20th Century are often "politically incorrect" by modern standards. However, the "Spicy" magazines — Spicy-Adventure Stories, Spicy Mystery, Spicy Western, etc. — were politically incorrect by their own contemporary standards as well. With the occasional passing glimpse of a creamy-smooth thigh (or other... [click here for more] | Wildside Press | $0.99 |
| A librarian helps a desperate student find the door into a book; Sir Thomas Moore's head is stolen and a messy rescue ensues; a mother sells a piece of her memory so her daughter can afford an education. Science fiction is the story of what if and what comes next. It's more playful, more inclusive and more entertaining than it has ever been before and as the world falls apart around us,... [click here for more] | Rebellion Publishing Ltd | $7.99 |
| Time travel is one of the staples of science fiction, right up there with aliens, space opera, and robots. Most science fiction authors have written at least one time travel story. This collection samples some of the best. TIME OUT, by Edward M. Lerner THESE STONES WILL REMEMBER, by Reginald Bretnor PROJECT MASTODON, by John Gregory Betancourt 12:01 P.M., by Richard A. Lupoff TIME CONSIDERED... [click here for more] | Wildside Press | $0.99 |
| The Malice Domestic cozy anthology series returns with a new take on cozy mysteries in the Agatha Christie tradition. Here are 22 original stories (and one modern classic reprint) set at conventions, conferences, and gatherings of all kinds! Included are: Conventional Wisdom, by Marcia Talley Djinn And Tonic, by Neil Plakcy The Vanishing Wife, by Victoria Thompson The Right to Bare Arms, by... [click here for more] | Wildside Press | $5.99 |
| The Sea-Story Megapack presents 30 classic nautical tales, plus a bonus poem, ranging from pure adventure to science fiction, from the depths of the ocean to exotic ports of call. Included are: THE SHIP THAT SAW A GHOST, by Frank Norris GHOST LANTERNS, by Alan B. LeMay THE DANGER FROM THE DEEP, by Ralph Milne Farley THE EXTRAORDINARY ADVENTURE OF A CHIEF MATE, by W. Clark Russell THE DERELICT, by... [click here for more] | Wildside Press | $0.99 |
| Lady Sleuths have long been a mainstay of the mystery field. Agatha Christie's Miss Marple is, surely, the very model of the detective in a cozy mystery. But before -- and after! -- Miss Marple there were such sleuths as Loveday Brooke and Amelia Butterworth (both of whose complete adventures are in this ebook MegapackTM). And the lady sleuth is alive and well today, with recent adventures by such... [click here for more] | Wildside Press | $0.99 |
| A collection of near-future, optimistic SF stories where some of the genre's brightest stars and most exciting new talents portray the possible roads to a better tomorrow. Featuring original stories by Alastair Reynolds, Kay Kenyon, Lavie Tidhar, Jason Andrew, Madeline Ashby, Jacques Barcia, Eva Maria Chapman, Ken Edgett, Silvia Moreno-Garcia, Eric Gregory, Mari Ness, Holly Phillips, Gareth L. Powell,... [click here for more] | Rebellion Publishing Ltd | $3.99 |
| Welcome to The 12th Science Fiction MEGAPACK®! We have another great lineup of stories (and the conclusion of our first serial, Tony Rothman's fine near-future novel, Firebird). No matter whether you like classic, golden age authors (Ray Bradbury, George O. Smith, Poul Anderson), fun pulp fiction (Talmage Powell, Murray Leinster, Keith Laumer), modern authors (Kristine Kathryn Rusch, Dean Smith,... [click here for more] | Wildside Press | $0.99 |
| "The Eighth Science Fiction Megapack" presents another stellar lineup of classic science fiction, new and old. Here are 25 stories (plus a bonus interview with best-selling author George R.R. Martin) by some of the field's greatest authors. Included are: THE TRUE DARKNESS, by Pamela Sargent PERMANENT FATAL ERRORS, by Jay Lake ADJUSTMENT TEAM, by Philip K. Dick ROBOTS DON'T CRY, by Mike Resnick... [click here for more] | Wildside Press | $0.99 |
| Here is a selection of 15 jaunts through time, many of them rare tales from the pulps that we know you haven't read before. Even if you're jaded with time-travel (Dinosaurs? Again?) you'll find something new in these pages. Included are: THE CHILDREN'S ROOM, by Raymond F. Jones SIDETRACK IN TIME, by William P. McGivern GEORGE ALL THE WAY, by Richard Wilson ABSOLUTELY... [click here for more] | Wildside Press | $0.99 |
| "The Ninth Science Fiction Megapack" contains 27 more works spanning time and space--including 24 stories, 2 interviews, and "A Science Fiction Alphabet." Fun stuff indeed! Included are: INTERVIEW: DAN SIMMONS, conducted by Darrell Schweitzer THE SPIRES OF DENON, by Kristine Kathryn Rusch AIN'T NOTHIN' BUT A HOUND DOG, by Brenda W. Clough FOR I AM A JEALOUS PEOPLE! by Lester del... [click here for more] | Wildside Press | $0.99 |
| "The Second Time Travel Megapack" collects 23 more tales of travel through time, by great modern and classic authors. Included are: SEEMS LIKE OLD TIMES, by Robert J. Sawyer THE BUSINESS, AS USUAL, by Mack Reynolds THROUGH TIME AND SPACE WITH FERDINAND FEGHOOT: 18, by Grendel Briarton TIME WELL SPENT, by George Zebrowski THE DAY TIME STOPPED MOVING, by Bradner Buckner SAVING JANE AUSTEN,... [click here for more] | Wildside Press | $0.99 |
| Four new tales of Doctors Catt and Fisher… Scholars, shopkeepers, collectors… aficionados. Obtainers of rare antiquities; relic hunters who can't resist a lead, even when it takes them into terrible danger. There's always an opportunity to be found amid the confusion, in the wake of the terrible Kinslayer War. There's always a deal to be done, a tomb to open, a precious thing to… obtain.... [click here for more] | Rebellion Publishing Ltd | $6.99 |
| Take a short journey to adventure with Iron Kingdoms Excursions! Each season features six volumes, each containing three very short tales—1,500 words or less—about the people, creatures, and machines of Immoren. The Season One Collection gathers all eighteen previously released tales from the first season of Iron Kingdom Excursions into one book. Experience the Iron Kingdoms through... [click here for more] | Privateer Press | $5.99 |
| Desperate Journeys holds six short stories from Ryan Macklin: Cracks in Marble, where a gargoyle made to protect humans falls in love with one What a Mother Will Do, set in a distant future where refugees struggle for survival in their exodus Stories from Finis: A Book of Endings, humorous tales told in a "choose your own adventure" fashion These... [click here for more] | Ryan Macklin | $2.49 |
| Ergo Sum is sold PWUW (Pay What yoU Want), DRM-free and CC-licensed in order to ensuring total freedom for the consumer. Specifically, we are releasing this book under the CC BY-SA International 4.0 license (https://creativecommons.org/licenses/by-sa/4.0/). We wrote this book to tell a few stories, and we care more about that than turning a quick buck. We just hope you enjoy, and continue... [click here for more] | Y. Rice Publications | Pay What You Want |
| The Second Mystery Megapack selects 25 more tantalizing mystery tales, by modern and classic authors. Included are: FUNNY STUFF, by Ron Goulart PIT ON THE ROAD TO HELL, by John Gregory Betancourt WHAT IS COURAGE? by Mack Reynolds JUST THE FACTS, by Meg Opperman TEN GRAINS OF SAND, by Christopher B. Booth MORE ALLISONS THAN I KNOW WHAT TO DO WITH, by Michael Hemmingson REFLECTION OF A DREAM,... [click here for more] | Wildside Press | $0.99 |
| Solaris Rising is the first in an exciting new series of anthologies that are set to reaffirm Solaris's proud reputation for producing high quality science fiction. The book will feature all original short stories from many best-selling authors such as Peter F. Hamilton, Alastair Reynolds, Stephen Baxter, Paul di Filippo, Adam Roberts, Lavie Tidhar, Ian Watson, Ken MacLeod, Mike Resnick, Tricia... [click here for more] | Rebellion Publishing Ltd | $6.99 |
| Return to the Augmented Future. Beneath the smartglass towers, hovering drones and digital advertisements of Union City's corporate elite, life on the streets follows its own cyber-organic rhythms...     » Powerful corporations fight wars through proxies, and digital reality is the battlefield     » Scrumblies and Discons do what it takes to survive in the streets and squatter... [click here for more] | As If Books | $3.99 |
| Something huge and hungry stalks the Cloutsdown Fen. In northern Cygnar, the Gnasir make their living fishing the marsh. But when they become the prey of a savage monster thought to be little more than a legend, they are forced to turn to outsiders to save their people from the relentless horror. An unlikely trio assembles to combat the menace: the bog trog mystic Lurk, the gatorman... [click here for more] | Privateer Press | $1.99 |
| Stories about devils and demons were literary staples long before the modern horror field came into existence. Our earliest story in this volume, by Washington Irving, was published in 1824...and the fact that these tales span almost 200 years shows how enduring the theme remains. Here, then, are 25 great modern and classic tales of devils, demons, and the macabre. Enjoy! THE CONTRACT OF CARSON... [click here for more] | Wildside Press | $0.99 |
| The Craig Kennedy Scientific Detective Megapack collects 25 novels and stories. 14 are Craig Kennedy tales, plus there is 1 additional story from the same author and 10 by contemporaries of Arthur B. Reeve. They all share the same spirit of detection. Included are: INTRODUCTION: ABOUT ARTHUR B. REEVE AND HIS CRAIG KENNEDY STORIES THE SILENT BULLET, by Arthur B. Reeve THE WAR TERROR, by Arthur... [click here for more] | Wildside Press | $0.99 |
| HUMANITY AMONG THE STARS What happens when we reach out into the vastness of space? What hope for us amongst the stars? Multi-award winning editor Jonathan Strahan brings us fourteen new tales of the future, from some of the finest science fiction writers in the field. The fourteen startling stories in this anthology feature the work of Greg Egan, Aliette de Bodard, Ian McDonald, Karl Schroeder,... [click here for more] | Rebellion Publishing Ltd | $6.99 |
| THEY'RE ALL THAT STAND BETWEEN US AND THE HORRORS OF THE NIGHT In The Werewolf Hunter #1, NUELOW Games proudly presents the beginning of a new ongoing anthology series starring nasty monsters and their tireless foes occult experts Armand Broussard and Lady Satan. In our premiere issue, we offer up two illustrated adventures starring Professor Broussard, the Werewolf Hunter... [click here for more] | NUELOW Games | $2.25 |
| "Christmas -- the very word conjures up memories of the most wondrous childhood holiday of all--filled with the glitter of colorfully-wrapped presents, family visits, carols, photographs, decorating the tree, attendance at church to celebrate the birth of the Christ child, and tummy-stuffing dinners tucked with treats seen at no other time of the year. But the yule holiday has been celebrated... [click here for more] | Wildside Press | $0.99 |
| "Christmas--the very word conjures up memories of the most wondrous childhood holiday of all--filled with the glitter of colorfully-wrapped presents, family visits, carols, photographs, decorating the tree, attendance at church to celebrate the birth of the Christ child, and tummy-stuffing dinners tucked with treats seen at no other time of the year. But the yule holiday has been celebrated for... [click here for more] | Wildside Press | $0.99 |
| A duellist in a dying city facing a weapon of fiery death, not to mention temptation. Two fur trappers hunted by a spirit of hate that feeds on the very fear it engenders. An arrogant apprentice to a vain wizard finds himself in a race to unlock secrets hidden for centuries. MacBeth, beloved King of the Scots, faces his last day and learns his name will damned. A cunning sorcerer has decided... [click here for more] | Sword's Edge Publishing | $1.99 |
| The Western Romance MEGAPACKTM selects 20 classic novels with romantic elements, by some of the top Western authors of all time. Included in this volume are: A DAUGHTER OF THE DONS, by William Macleod Raine THE DUKE OF CHIMNEY BUTTE, by G. W. Ogden RIDERS OF THE PURPLE SAGE, by Zane Grey THE RAINBOW TRAIL, by Zane Grey DESERT GOLD (1913) THE BORDER LEGION, by Zane Grey WILDFIRE, by Zane Grey THE HEART... [click here for more] | Wildside Press | $0.69 |
| Imagine the World in 100 Years. Nine authors collaborated to envision a "Smart City" of the first world 100 years in the future, exploring trends like ubiquitous computing, artificial intelligence, augmented reality, biotech, anti-aging and green technologies - alongside corporate governance and social upheaval. "UbiquiCity" is a work of interwoven fiction that might turn... [click here for more] | As If Books | $3.99 |
| Horton's elegiac anthology of 15 mostly hard SF stories illuminates a broad spectrum of grief over love thwarted through time, space, human frailty or alien intervention, from the gentle melancholy of Michael Swanwick's "Triceratops Summer," which posits tame Technicolored time-warped dinosaurs in Vermont, to newcomer Leah Bobet's "Bliss," an agonizing riff on near-future drug addiction.... [click here for more] | Wildside Press | $2.99 |
| Solaris Rising 1.5 continues the exciting new series of SF anthologies from Solaris and editor Ian Whates, with an exclusive ebook! An anthology of nine short stories from some of the most exciting names in science fiction today. From both sides of the Atlantic - and further afield - these nine great writers offer you everything from a mystery about the nature of the universe to an inexplicable transmission... [click here for more] | Rebellion Publishing Ltd | $3.99 |
| The Espionage Novel MegapackTM presents 4 classic novels of espionage and adventure. Included are: TIGER MILK, by David Garth The story of a lone-wolf fight against a Nazi undercover ring in the U.S. THE FIVE ARROWS, by Allan Chase High intrigue in South America, with the future of democracy on the continent at stake! THE SHOCKING SECRET, by Holly Roth "An astonishing book: don't miss it!"... [click here for more] | Wildside Press | $0.99 |
| For nearly a decade, No Quarter magazine has published rousing fiction set in the Iron Kingdoms, expanding the stories of existing characters and introducing new ones to WARMACHINE and HORDES players. The No Quarter Collection series gathers these stories, some long out of print, and offers them in a single, easy-to-read format. The No Quarter Collection: Volume Two contains stories... [click here for more] | Privateer Press | $4.99 |
| "This is one of a series of anthologies of science fiction and mystery stories by Borgo Press writers that are being distributed at cost as both ebooks and paperback volumes. The first volume in the sequence, Yondering, includes a baker's dozen of original and reprint tales by fourteen writers. In ""The Quills of Henry Thomas,"" W. C. and Aja Bamberger give us a glimpse of a future in which music... [click here for more] | Wildside Press | $0.99 |
| So I travelled, stopping ever and again, in great strides of a thousand years or more, drawn on by the mystery of the earth's fate, watching with a strange fascination the sun grow larger and duller in the westward sky, and the life of the old earth ebb away... These words marked the passing of the man known only as The Time Traveler as he sailed across the span of Earth's timeline... [click here for more] | Northern Frights Publishing | $4.99 |
| Take a short journey to adventure with Iron Kingdoms Excursions! Each volume in this series features three very brief tales about the people, creatures, and machines of Immoren. Explore the Iron Kingdoms and all the alliances, betrayals, and bloodshed of a war-torn continent for only pocket change. In Iron Kingdoms Excursions: Season Two, Volume Six: Witness an emprisoned pyg's... [click here for more] | Privateer Press | $0.99 |
| Dungeons Are Half the Game. You can't control what players are going to do. That's half the fun. But you can control where they do it. That's a whole other half! The Kobold Guide to Dungeons gives both new and experienced Game Masters over 100 pages of insight and ideas into making dungeons great. In-depth essays from industry luminaries teach you... [click here for more] | Kobold Press | $12.99 |
| How well do you really know the Presidents of the United States? Sure, the names may be familiar, but do you know the details and secrets of their lives? Or know the adventures that might have been? Presidential Pulp takes five great Presidents from the past and reinvents them in great adventure tales. Whether it is James K. Polk, Ulysses Grant, Dick Nixon or Theodore and Franklin Roosevelt, these... [click here for more] | Metahuman Press | $12.00 $2.99 |
| Having re-affirmed Solaris' proud reputation for producing high quality science fiction anthologies in the first volume, Solaris Rising 2 is the next collection in this exciting series. Featuring stories by Allan Steele, Kristine Kathryn Rusch, Kim Lakin-Smith, Paul Cornell, Eugie Foster, Nick Harkaway, Nancy Kress, Kay Kenyon, James Lovegrove, Robert Reed, Mercurio D. Rivera, Norman Spinrad,... [click here for more] | Rebellion Publishing Ltd | $6.99 |
| "Almost everyone likes dogs, even those who prefer cats as pets. So it's not surprising that writers have devoted a great deal of verbiage indeed to describe their ongoing love affair with the canine breed. You'll find herein all kinds of tales focusing on dogs: science fiction stories, mysteries, horror tales, westerns, memoirs, humorous accounts, and first-person doggie narratives. There are well-known... [click here for more] | Wildside Press | $0.99 |