Follow Your Favorites!
Sign in
to get custom notifications of new products!

Featured Product
Delta Green: Dark Theatres
by Pagan Publishing
This third volume in the fiction line for Delta Green includes eight stories of horror and conspiracy.
This time, the Cthulhu Mythos tales traverse the twentieth century--a grunt's-eye view of the 1927 Raid on Innsmouth, the terrible work of the Nazi Karotechia in WWII, the crushing miasma of Vietnam, and much more.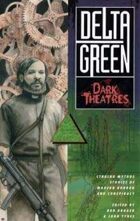 | Products found in this section... | Sort by: |
| --- | --- |
| | | |
| --- | --- | --- |
| Title | Publisher | Price |
| We are like you. We live in your cities, we laugh at your jokes, we share your good times and your bad ones. We meet you in clubs and back alleys, at glamorous parties and dive bars. We need you, to sate our endless hunger. We are your Kindred. They are the smoke and the darkness, things that could have been you or us, creatures of hunger that humanity stole the night from. They are the Strix.... [click here for more] | Onyx Path Publishing | $9.99 |
| Ten Tales of Dark & Secretive Orders Lovecraft envisioned a world in which humanity is ignorant of cosmic realities. When the bleak truth is revealed, it terrifies us, for it offers no hope of our salvation. Cultists are the gatekeepers to this knowledge. Their aim is to keep secret the existence of their gods by any means possible, and to free their gods from their slumbering prisons — thus... [click here for more] | Chaosium | $14.16 |
| The Complete Mythos Fiction of Lin Carter (including the episodic novel "The Terror Out of Time") The late Lin Carter was the driving force behind the famous Ballantine Adult Fantasy Series of the 1970's. He was also a prolific writer and anthologist of horror and fantasy with over eighty titles to his credit, including Lovecraft: A Look at the Cthulhu Mythos. Carter's tales of mythos horror are... [click here for more] | Chaosium | $14.48 |
| Horror and Wonder at the Ends of the Earth ". . . They rose grimly into the western sky; allowing us to distinguish various bare, bleak, blackish summits, and to catch the curious sense of fantasy which they inspired as seen . . . against the provocative background of iridescent  ice-dust clouds. In the whole spectacle there was a persistent, pervasive hint of stupendous secrecy and potential... [click here for more] | Chaosium | $20.77 |
| Histories of the Elder Magi, Episodes of Eibon of Mhu Thulan, Papyrus of the Dark Wisdom, Psalms of the Silent, and the Eibonic Rituals Tales of lore tell of the Book of Eibon, a tome so ancient that it was originally written in the Hyperborean language of Tsath-Yo, long before Atlantis was born from the sea. It goes by dozens of names and predates even the Necronomicon... [click here for more] | Chaosium | $20.36 |
| Take your seat. Delta Green: Dark Theatres presents eight new stories of intrigue and horror, eight theaters in which desperate actors engage clandestine passion plays for the grim amusement of alien gods, Witness the horrors of the Raids on Innsmouth the terrible secrets of World War II, the tropical nightmare of Vietnam, the chill vacuum of Yuggoth, the asynchronous folds of space-time,... [click here for more] | Pagan Publishing | $13.50 |
| Return to the Augmented Future. Beneath the smartglass towers, hovering drones and digital advertisements of Union City's corporate elite, life on the streets follows its own cyber-organic rhythms...     » Powerful corporations fight wars through proxies, and digital reality is the battlefield     » Scrumblies and Discons do what it takes to survive in the streets and squatter... [click here for more] | As If Productions | $11.99 $9.99 |
| Imagine the World in 100 Years. Nine authors collaborated to envision a "Smart City" of the first world 100 years in the future, exploring trends like ubiquitous computing, artificial intelligence, augmented reality, biotech, anti-aging and green technologies - alongside corporate governance and social upheaval. "UbiquiCity" is a work of interwoven fiction that might turn... [click here for more] | As If Productions | $11.99 |
| A collection of fantasy short stories from noted fantasy game designers and authors James M.Ward, Frank Mentzer, Christopher Clark, and Tim Kask.  Walk with an elf masquerading as a human, discover the story behind Lich Dungeon and The False Prints, explore the world of Tim Kask and much, much more.  This anthology is guaranteed to entertain you for more than a few trips on the plane. ... [click here for more] | Eldritch Enterprises | $15.95 |