Follow Your Favorites!
Sign in
to get custom notifications of new products!

Featured Product
Shadowrun: Neat (A Shadowrun Novella)
by Catalyst Game Labs
James Kincaid is down on his luck. Like so many people in the shadows of Seattle, he's trying to get by with what he has. In his case, that includes a lively spirit, a sadly diminished magical talent, quick wits, and good knowledge of the twists and turns of Seattle's streets. With any luck, he'll scrape up enough nuyen to buy his favorite drink—whiskey, neat.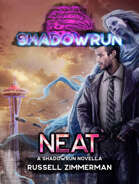 | Products found in this section... | Sort by: |
| --- | --- |
| Title | Publisher | Price |
| --- | --- | --- |
| WHERE NOBODY KNOWS YOUR NAME… Things don't rise to gutters, they fall there. Same with back alleys and dumpsters. Same with graves. Running the shadows comes with ups and downs, but you never know where those rises and falls will take you. What someone else might call rock bottom…you might call Tuesday. Collected here for the first time, read Russell Zimmerman's Shadowrun... [click here for more] | Catalyst Game Labs | $4.99 $3.49 |
| MAKING OF A MAN… Dashiell Riggins was just another hardscrabble kid growing up in rural Washington, doing everything a normal teenager would do—hanging out with friends, swimming in the river during summer break, keeping an uneasy peace with the powerful ork family that controlled their hometown. Until one day changed everything; the day Dash goblinized. Transformed into a troll... [click here for more] | Catalyst Game Labs | $5.99 |
| ON BLOODY GROUND... Dashiell Red Clay has spent decades as a soldier, a shadowrunner, a mercenary...above all, a warrior. He's survived Goblinization, the Night of Rage, the passing of Halley's Comet, the Second Matrix Crash, and more skirmishes, gunfights, and battles than almost anyone else alive. He knows more than most that history books are written in blood. It's time for new... [click here for more] | Catalyst Game Labs | $4.99 |
| NEVER STOP TRAINING... Dashiell Red Clay's days on the field and at basic combat training might be behind him, but his life as a Salish Ranger has just begun...and there's a lethal learning curve! Only life in The Sixth World can teach Dash what it means to be a member of the Salish Boat Service, what it means to serve your country, and what the word "country" even stands for... [click here for more] | Catalyst Game Labs | $4.99 |
| THE MEANEST STREETS... James Kincaid is the type of guy who might be described as down on his luck, if only he'd had some luck to begin with. Like so many people in the shadows of Seattle, he's trying to get by with what he has. In his case, that includes a lively spirit, a sadly diminished magical talent, quick wits, and good knowledge of the twists and turns of the city's dingy streets... [click here for more] | Catalyst Game Labs | $2.99 $0.99 |
| STREETS ON FIRE… A vicious magical assault on a street gang isn't a case paranormal P.I. Jimmy Kincaid would normally pick up. But when a fellow private eye asks him to look into it, and he learns the gang was doing a charity run for a church—a church Jimmy knows quite well—when they were attacked, his professional curiosity is raised. His investigation quickly leads to a... [click here for more] | Catalyst Game Labs | $2.99 |
| MEAN STREETS? YOU HAVE NO IDEA… The Sixth World is a dangerous place, and nowhere is that more obvious than in Seattle, the so-called Emerald City. Surrounding its neon-drenched heart is kilometer after kilometer of Sprawl, where millions of people scratch out a living among hazardous, slowly decaying neighborhoods and even more dangerous neighbors. Sprawl Stories contains four... [click here for more] | Catalyst Game Labs | $4.99 |
| THE STREETS ARE ABOUT TO EXPLODE… And Puyallup's local paranormal investigator Jimmy Kincaid is caught right in the middle of it. The neighborhood's criminal syndicates are on the brink of all-out war, and if they go at it, the streets will run red—literally. But Jimmy's got more problems besides trying to keep the peace between feuding mobsters. Someone's sending him... [click here for more] | Catalyst Game Labs | $5.99 |
| NO PLACE FOR A HERO... Jimmy Kincaid, burned-out mage, P. I., and the closest thing Puyallup's got to a hero, has a lot on his plate these days. Simmering gang wars, feuding mobsters, missing runaways, magical power only as reliable as his stubborn sorcerous patron, and—well above his usual pay grade—an encrypted data file that's already cost him friends, but that he can't even access. When... [click here for more] | Catalyst Game Labs | $6.99 |
| DOWN THESE DARK STREETS... Most folks see Puyallup as the worst Seattle's got to offer; a tangled mess of metahumanity and greed, poverty and ghettoes, vice and corruption, where the crime is more organized than the government. They call it a Barrens, an armpit, a cesspool. Jimmy Kincaid, though, calls it home. Walking the line between the shadows and the desperate light, semi-legit like only a... [click here for more] | Catalyst Game Labs | $2.99 |
| 55 Traditional Stories from Around the World This book is a collection of 55 folktales that feature supernatural abilities. These tales represent powers--from invisibility to shape-shifting--that people have dreamed of, conjured up and strived for through the ages. Many of the powers are present in popular culture, making the superheroes who wield them the direct descendants of characters such as... [click here for more] | McFarland | $9.99 |
| Monsters have become one of the great guilty pleasures of our age. From the zombies of The Walking Dead to the werewolves of Teen Wolf, from the vampires of The Strain to the wide assortment of creatures in Penny Dreadful, they are everywhere in mass media. Here, for your guilty reading pleasure, are 22 more tales of monsters, by some of the greatest writers ever to set typewriter to paper! Included... [click here for more] | Wildside Press | $0.99 |
| A jail cell held the answer to the murder of Vic's policeman father, and the price of learning it would be—Vic's own life! This digital edition includes the PDF, EPUB and MOBI (Kindle) versions of the book. ... [click here for more] | Wildside Press | $0.99 |
| Arthur Leo Zagat was one of the most versatile pulp writers in the 1930s-1950s, the author of more than 500 short stories in many different genres. His work appeared in most of the top science fiction, mystery, and adventures magazines, including Astounding Stories, Planet Stories, Weird Tales, Thrilling Wonder Stories, Argosy, and many, many more. Wildside Press is preparing multiple volumes assembling... [click here for more] | Wildside Press | $0.99 |
| 12 tales of the masked hero, as he smashes his way through spy-rings and other fiendish plots to destroy America! In the spy vs. spy world of the late 1930s, this masked hero prowled the underworld, dressed in an "amorphous fluttering black robe, bat-like, [with] a gray-masked head through whose twin eye-slits menace glinted." But it was not so much the costume as the "hand, ebony-black... [click here for more] | Wildside Press | $0.99 |
| Imagine, Joseph Campbell and Groucho Marx, Homer (the greek one) and Terry Pratchett writing a book together. Now imagine the depths of the unconscious dressed in the camouflage of humor. Join Forenk, the unlucky son of pig farmers, as he leaves home, an outcast, to find and uncover his destiny as the last mortal demigod capable of fathering divine beings. Along the way he meets his guardians and... [click here for more] | Mario Zecca | $3.99 |
| Apex Magazine is a monthly science fiction, fantasy, and horror magazine featuring original, mind-bending short fiction from many of the top pros of the field. New issues are released on the first Tuesday of every month. TABLE OF CONTENTS FICTION: Anthracite Weddings — John Zaharick Keep Talking — Marie Vibbert Griefbunny — Brooke Juliet Wonders Henrietta's Garden —... [click here for more] | Apex Book Company | $2.99 |
| Apex Magazine is a monthly science fiction, fantasy, and horror magazine featuring original, mind-bending short fiction from many of the top pros of the field. New issues are released on the first Tuesday of every month. A special "international SF" themed issue to honor the release of The Apex Book of World SF edited by Lavie Tidhar. Table of Contents: Short... [click here for more] | Apex Book Company | $0.99 |
| WHO IS THE IRON LADY? In 1947, Doris Parker set out to avenge her father's murder. As a result, she became one of the most prolific serial killers in history, preying on racketeers, murderers, and rapists all along the Eastern Seaboard. This book details how her "career" got started. Iron Lady collects, for the first time anywhere, all four original "Iron Lady" stories from the pages... [click here for more] | NUELOW Games | $2.25 |
| Based on concepts and stories originated by H.G. Wells! The "Martian Invasion" has begun again and now mankind must fight, not only for their homes, but for their very humanity. Aliens were the stuff of legends, fairy tails, to scare children or to entertain those wanting to escape the mundane existence of their lives. Few men took them seriously, let alone saw them as a threat. Yet as... [click here for more] | Caliber Comics | $7.99 |
| Available in EPUB, HTML, MOBI, PDB and PDF formats. Amy has never really known family. Not like her husband, Brad, with his tribe of brothers, sisters, and cousins. Amy's only ever had her Aunt Zara – ever since Amy was twelve and her parents died. It was Aunt Zara who took her in, raised her, and provided for all her needs and desires. Aunt Zara has been her world. When Aunt Zara passes... [click here for more] | Untreed Reads Publishing | $1.50 |
| Time's unraveling across the galaxy and the only hope are two people who'd rather kill each other than work together. Drake Bane is a low-class smuggler and general grit in the galaxy's wheels of progress. He finds himself on the wrong side of a goblin mob boss and gets the choice to either steal an ancient relic or test space decompression up close. When his ship's impounded as... [click here for more] | Dwarves in Space | Pay What You Want |
| This is the first short story delving deep into Terminus, the world of Ex-Lumine. Ex-Lumine is a Grimdark, Post-Apocalyptic tabletop RPG with Dieselpunk influences. Ex-Lumine is set in Terminus, a world poisoned by a dark fog known as Corruption. Plants wither, the earth itself decays and grotesque abominations known as Tenebris lurk in the shadows, preying on those... [click here for more] | Ex-LumineRPG | FREE |
| For Sophie Hanes, life is predictable and relatively uneventful, until . . . . . . she finds an old diary in her grandmother's attic, written in the unfamiliar Irish language, Gaelic. In her quest to know more, she sets out to find an interpreter and runs into the sexy New Yorker, Kevin Gates, who is more than happy to help interpret the language. Kevin finds himself moving too close, too... [click here for more] | Untreed Reads Publishing | $4.99 |
| A short story in which A little boy steals some seeds from a Staker seed bank, and runs into the village Elder. The world of Wreck Age depicts humanity's desperate struggle after betrayal and disaster have decimated Earth as we know it. Your introduction to Wreck Age begins in the 26th century, during the re-setting of the calendars, or Year Zero, the first year in the re-emergence of civilization... [click here for more] | Hyacinth Games | Pay What You Want |