Follow Your Favorites!
Sign in
to get custom notifications of new products!

Featured Product
Seven to Die
by Aspen Comics

Seven To Die tells the story of Lex MacArthur, a San Francisco college student who comes into possession of an enigmatic clay pendant that unlocks a bevy of dormant superhuman genes.
She's stronger, she's faster, and she's on a mission to find out why.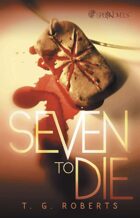 | Products found in this section... | Sort by: |
| --- | --- |
| | | |
| --- | --- | --- |
| Title | Publisher | Price |
| Based on a true concept, Quantum Entanglement. The galaxy has evolved into a technocracy resulting in a utopian society. Quantum Entanglement disturbs dark matter and aliens come through the rift to annihilate humankind. We create a military regime to Battle the aliens. Will the aliens be defeated? Will the military regime surrender their rule back to the people when it's over as promised,... [click here for more] | RobStetson | $3.99 |
| This is the ballad of Matt Evans, who rode in from Texas with smoking six-guns and a brother he wanted to forget. And of Bide Evans, who swore to bring law and order to a town that knew only trigger-rule and vigilante vengeance. And the high noon of that day when "the gunsmoke brothers" faced each other in the dusty street of Hangman's Gulch. AN EXPLOSIVE STORY BY THE DEAN OF AMERICA'S WESTERN... [click here for more] | Wildside Press | $2.99 |
| Lynn the Fox has been a Kazak for several years and thought she had seen it all; after all, she's a Master Kazak having killed more than five Assassins—professional killers with wizard-like talents. But life is unpredictable and the unimaginable is about to happen.... [click here for more] | Double Dragon Publishing | $14.99 $5.99 |
| It's better than sex! It's better than drugs! If you haven't been sick yet, you soon will be... Welcome to Theme Planet, an entire alien world of insane rides, excessive hedonism and dangerous adventure. Theme Planet is the No. 1 destination for fun-seeking holidaymakers Galaxy-Wide! Dexter Colls is a policeman from earth, enjoying the holiday planet with his beautiful wife and young daughters. But... [click here for more] | Rebellion Publishing Ltd | $6.99 |
| Eight years ago Tony left Olivia at the altar. He was sure she didn't really want to marry him. Now he's back, and they're forced to work together. Coming home isn't easy for Tony, because his father wanted him to work at a trade instead of going off to college. Their relationship is still unsteady. Even before Tony's return, Olivia began questioning the depth of her love for her fiancee, a man she... [click here for more] | Untreed Reads Publishing | $6.99 |
| In this companion piece to Is This Seat Taken?, Mandy's life hasn't turned out the way she planned.  Her father died, her mother is bipolar, and she's overwhelmed with responsibility and indecision.  That's why she's so grateful for her boyfriend, Luke.  But just how long does he plan on sticking around? This Heart of Mine is a sweet, new adult romance short story ... [click here for more] | Black Humor Fairy Press | $0.99 |
| Marin County is famous for its affluent pleasures and the beauty of its beaches, mountains and redwood forests. In Time and Trouble, a teen-aged runaway, a yellow hearse, an insurance scam, a heart-shaped talisman, a baby's skeleton in a meadow, and something ugly and odd going on in a Sausalito houseboat all converge there to provide the first—and nearly last—case for Billie August,... [click here for more] | Untreed Reads Publishing | $4.99 |
| The political situation in the 21st century was coming to the boil: one man, a scientist, held what might be the important key to ultimate power in the struggle between the three blocs: West-world, Sov-world, and Common Europe. The scientist, Auguste Bazaine, disappears, and each bloc accuses the other of kidnapping. There was only one way to settle the difference! So nine men were chosen to fight... [click here for more] | Wildside Press | $2.99 |
| Dragons can be dangerous … … if you don't bond with them first. Eldwin wants to follow in his father's footsteps and become a Dragon Guard, but not for the glory. With his family dead and their lands dying, the opportunity to join the dragon rider school is all he has. But before Eldwin can bond with a dragon and guard the skies, he must pass three tests... [click here for more] | Richard Fierce | $0.99 |
| Island One, the U.S.'s first space colony and symbol of an American Renaissance, is in trouble. Low morale, shoddy workmanship, unexplained malfunctions, and avoidable accidents have become a way of life, and nobody seems to know why. Is in the Russians? Home-grown anti-technologists? Arabs afraid of cheap solar power from Space — or something even more sinister? When the President ordered... [click here for more] | Wildside Press | $4.99 |
| Two sci-fi stories about the future by T.C. Ricks. Waiting For the Monsters to Die - The Caged are hated by everyone on Earth because aliens have marked them with the "cain gene." The aliens claim it makes them monsters who will attack others. Now the one man keeping them alive has been killed and Madlan has to find out who dunnit. If he dares. Mr. Hamburger - A man has his photograph... [click here for more] | Red Anvil Productions | $1.25 |
| Freed from the battles and terrors of his home world, Jonathan Glauwer finds himself back in the thick of trouble when his old adversary, Walpole—the telepathic demon hedgehog of Yurle—escapes from his prison. A terrible war between the surface-dwelling hedgehogs and the merciless Empress Moleloch and her mole minions throws everyone into terrible danger and it is up to old friends and new heroes... [click here for more] | Double Dragon Publishing | $14.99 $5.99 |
| Single mother Billie August is frustrated with her boss and sleuthing mentor, the gruff, perpetually dissatisfied Emma Howe. So far, their relationship has been a personal and professional disaster. To top it off, Billie seems like the only person in town who thinks mentally disabled Gavin Riddock, accused of killing his only friend, might not be guilty, but her inability to turn up any hard evidence... [click here for more] | Untreed Reads Publishing | $4.99 |
| Well-known Broadway playwright and TV producer Lyle Zacharias is throwing himself a lavish birthday party in his hometown of Philadelphia. Guests include his current wife, ex-wives, friends, former partners—not to mention Amanda Pepper and her own irrepressible mother, Bea. Yet when Lyle drops dead in the middle of a speech, it appears the likely perpetrator is none other than Bea, whose gift was... [click here for more] | Untreed Reads Publishing | $4.99 |
| After eight months away, I'm finally back home.  Momma, Daddy, and Grandma are thrilled to see me, but I'm wondering if my ex-boyfriend will be, too.  Maybe I'll swing by Miss Betty's for the best chess pie in the South.  Who knows?  Maybe Jason will have the same idea.  You know what else?  Maybe we're not quite over just yet.  You Again is a sweet, contemporary romance short... [click here for more] | Black Humor Fairy Press | $0.99 |
| The primary role of this book is your training. The trained parent is in a better position to train their child. It's all aimed at reducing the likelihood that your child will be vulnerable to abduction or Internet victimization. If your child is out of control, involved with a wild crowd, staying out for the night, or for days at a time, this book is for you. We're going to put a... [click here for more] | RobStetson | $3.99 |