Follow Your Favorites!
Sign in
to get custom notifications of new products!

Featured Product
Android: The Identity Trilogy [BUNDLE]
by Fantasy Flight Games

The world changed, but crime did not…
Dive into the futuristic dystopia of the Android universe in these novels! You'll find troubled detectives, fast-paced firefights, and bioroids searching for the meaning of existence within the pages of these books. Enter the future, but always remember to watch your back!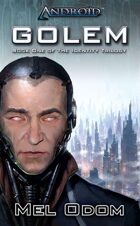 | Products found in this section... | Sort by: |
| --- | --- |
| | | |
| --- | --- | --- |
| Title | Publisher ▲ | Price |
| LOST SECRETS ARE THE DEADLIEST SECRETS OF ALL... Shadowrunner Katar Hawke knows the score on the streets. Every job is to be executed swiftly and simply—no muss, no fuss, and with as little help as possible. But when an extraction of a seemingly ordinary grad student from a Central American dig goes south in a big way, Hawke has to keep them both alive while he figures out what he's stumbled... [click here for more] | Catalyst Game Labs | $4.99 |
| AGE IS MORE THAN JUST A NUMBER Keandra's been around for a long time, outliving most Shadowrunners twice over. With a legacy of runs under her belt, she has the solid reputation and wisdom that comes with surviving the shadows longer than most. Looking for a way to cash in on her street cred, Keandra comes up with a novel idea: Why not set herself up as a Johnson? With her rep,... [click here for more] | Catalyst Game Labs | $4.99 |
| DARKNESS EVERYWHERE The Sixth World is a dangerous place, with deadly hazards lurking around every corner. Everywhere shadowrunners go, from the top of the world to the deepest, darkest Sprawl neighborhood, someone's always looking to make their rep by taking you down. World of Shadows is the second anthology of original Shadowrun short stories, each one showcasing some of the most far-flung, treacherous... [click here for more] | Catalyst Game Labs | $4.99 |
| This special bundle product contains the following titles. Android: Golem (Book 1 of the Identity Trilogy) Regular price: $6.99 Bundle price: $6.99 Format: Multiple File Formats Android Novels The world changed, but crime did not… Dive into the futuristic dystopia of the Android universe in these novels! You'll find troubled... [click here for more] | Fantasy Flight Games | $20.97 |
| From 1985 to 1995, Mark Gruenwald was the head writer for Captain America. During this decade, Gruenwald wrote some of the most essential stories in Captain America's history and guided the comic through an eventful period of both world history and comic book history. This book dissects the influence of the world at large on Gruenwald's stories and the subsequent influence of Gruenwald's work on... [click here for more] | McFarland | $39.95 $17.99 |
| The intense brand-new military horror series from "one of the Major Horror Authors of the 21st Century" – American Library Association Trained To Kill. Haunted By The Past. Fighting For Their Souls. Everything is dangerous in Afghanistan, nothing more so than the mission of a Tactical Support Team or T.S.T. All veterans, these men and women spend seasons in hell, to not only try... [click here for more] | Rebellion Publishing Ltd | $6.99 |
| Roll the Bones! In a world ruled by chance, one rash decision could bring down the house, one roll of the dice could bring untold wealth, or the end of everything. The players have gathered around the table, each to tell their story - often dark, always compelling. Within you will find tales of the players and the played, lives governed by games deadly, weird, or downright bizarre. Multi-award winning... [click here for more] | Rebellion Publishing Ltd | $6.99 $4.89 |
| LAGOS WILL NOT BE DESTROYED The gods have fallen to earth in their thousands, and chaos reigns. Though broken and leaderless, the city endures. David Mogo, demigod and godhunter, has one task: capture two of the most powerful gods in the city and deliver them to the wizard gangster, Lukmon Ajala. No problem, right? This digital edition includes the ePub and Mobi (Kindle) versions of the... [click here for more] | Rebellion Publishing Ltd | $5.99 |
| THE THRILLING SEQUEL TO BURNING SKY Coming home from war is never easy, but for Boy Scout this time it's even worse. He's brought something with him. Multiple entities have hitched a ride in his mind, and at least one of them wants to take it all: his mind, body and soul. Hounded from his monastery refuge by Faood's dervishes, only McQueen, Preacher's Daughter, and a shadowy... [click here for more] | Rebellion Publishing Ltd | $6.99 |
| THE EARTH HAS BEEN COLONISED. Ben Mason fought the war and lost. The Earth has been taken by an implacable alien intelligence: our cities terraformed, our people broken. Now Mason — back in the arms of task force OMBRA — needs answers to the most desperate questions. Can nothing be done? What do the invaders want with Earth? When all hope of survival is gone, all that's left is... [click here for more] | Rebellion Publishing Ltd | $6.99 |
| THE INVASION IS OVER. THEY ARE ALREADY AMONGST US Ben Mason is fighting in the only war worth a damn: as part of the Task Force OMBRA, they're the only defence against the aliens invading Earth. This is a time for heroes. For killers. For Grunts. Read the stunning Task Force Ombra trilogy in one volume. This digital edition includes the ePub and Mobi (Kindle) versions of the book. Note:... [click here for more] | Rebellion Publishing Ltd | $9.99 |
| All Elizabeth hoped to do was to rekindle the love in her marriage. Yet despite ignoring her social obligations and immersing herself in her husband's important work, somehow this only made things worse. Her last hope is her unborn child, a source of unrequited love to fill the void inside her. But that too is taken from her. How? Why? Her doctor avoids her. Her husband berates her. And there are... [click here for more] | Untreed Reads Publishing | $2.99 $2.09 |
| Sherlock Holmes Mystery Magazine #21 features the best in contemporary and classic mystery fiction, with a great linup of crimes and columns. Here are: Features: From Watson's Notebook, by John H. Watson, M. D. Ask Mrs Hudson, by (Mrs) Martha Hudson Non Fiction: Screen of the Crime, by Kim Newman Beam Me Up, Sherlock, by Lynne Stephens Recurring Characters in the Nero Wolve Stories,... [click here for more] | Wildside Press | $2.99 |