Follow Your Favorites!
Sign in
to get custom notifications of new products!

Featured Product
The Strange Cases of Rudolph Pearson
by Chaosium
Professor Rudolph Pearson moved to New York City after the Great War. While teaching Medieval Literature at Columbia University, he helped the police unravel a centuries' old mystery.
There he learns of the terror that brings doom to his world.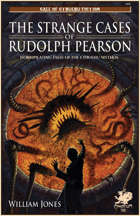 | Products found in this section... | Sort by: |
| --- | --- |
| | | |
| --- | --- | --- |
| Title | Publisher | Price |
| "It is only within the last few years that most people have stopped thinking of the West as a new land. I suppose the idea gained ground because our own especial civilisation happens to be new there; but nowadays explorers are digging beneath the surface and bringing up whole chapters of life that rose and fell among these plains and mountains before recorded history began." —H.P. Lovecraft, "The... [click here for more] | Chaosium | $12.48 |
| Horripilating Tales of the Cthulhu Mythos Professor Rudolph Pearson moved to New York City after the Great War, hoping to put his past behind him. While teaching Medieval Literature at Columbia University, he helped the police unravel a centuries' old mystery. At the same moment, he uncovered a threat so terrifying that he could not turn away. With the bloody scribbling of an Old English script in... [click here for more] | Chaosium | $12.98 |
| The Best Weird Tales of Arthur Machen Volume 2 Born in Wales in 1863, Machen was a London journalist for much of his life. Among his fiction, he may be best known for the allusive, haunting title story of this book, "The White People", which H. P. Lovecraft thought to be the second greatest horror story ever written (after Blackwood's "The Willows"). This wide ranging collection also includes the... [click here for more] | Chaosium | $12.98 |
| Born in the blazing crucible of war, but sworn to fight for peace, the mysterious obsidian aviator known only by the codename Captain Midnight… flies again! An ace pilot, super secret agent, and astounding scientific genius, the heroic Captain Midnight ruled the radio airwaves and starred in comic books, film serials and a classic television series. Now, when we need him most, he has returned,... [click here for more] | Moonstone | $15.00 |
| The city of Porto Remina, North American west coast, a couple of decades from now. Hardcore detective Mike Shark investigates the murder of a female chemist. But as the mystery takes him deeper into the shady undertakings of huge mega-corporations, Shark finds himself in a fight to survive. A sci-fi noir detective series of short fiction, featuring action-packed crime stories and suspenseful... [click here for more] | PenguinComics | $14.95 $10.00 |
| Dark Tales for Dark Nights is a collection of six dark and unique short stories that explore the mysteries and suspenseful realm of fiction. Come explore the depths of our imaginations as our tales of the supernatural, encounters with legendary monsters, fear, and of love that continues even in death leave you with a fright in the night! These stories offer a new twist on the traditional suspense/horror... [click here for more] | Shadow Dragon Press | $8.99 |