Thanks for your interest in selling your products on DriveThruFiction.com

DriveThruRPG, RPGNow, DriveThruComics, Wargame Vault, and DriveThruFiction are all operated by OneBookShelf. We have been offering digital downloads since 2001, reaching hundreds of thousands of fans, and sending royalties to our publisher clients reliably every month. Whether you are an existing publisher with hundreds of titles or an independent creator preparing to sell your first title, we are delighted that you are considering a partnership with us to sell your creative output.

How Does It Work?
Working with us is easy. These pages walk you through your free publisher account set-up. Once your publisher account is created, a new publisher menu will appear on your Account page on DriveThruFiction.com.

Among many other things, the publisher menu gives you options to set up new products on the marketplace, check your sales, and cash-out your royalties.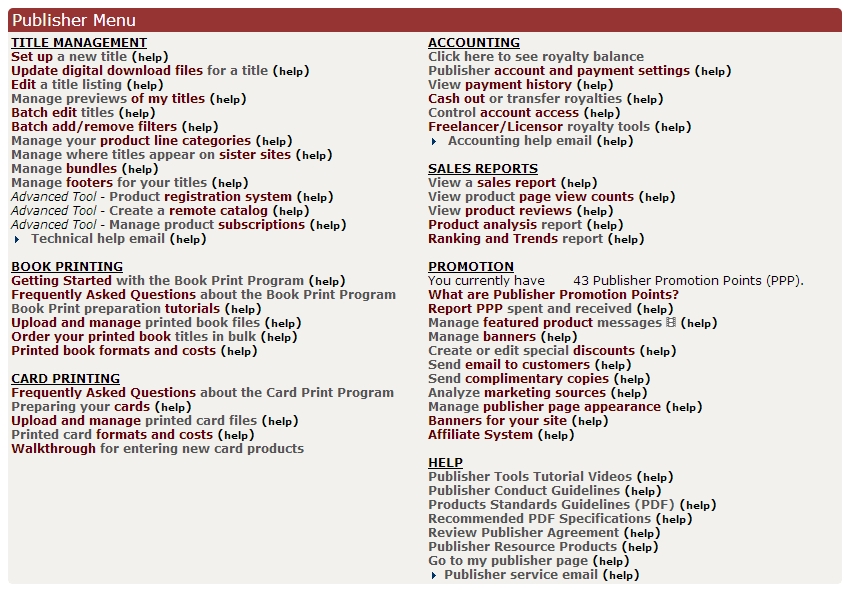 You upload products to us, usually as PDF or other ebook format files (though we accept audio, video, software and other media types as well), whenever you want. You determine the price and the presentation of your products.

Once you set-up your first product, our publisher relations folks will look over your product to make sure the set-up is correct and that the product conforms to our minimum quality standards. They will then activate your product so it goes live on the marketplace for sale to customers.

As customers purchase your products, your sales reports reflect this in real-time, and your royalty balance increases in real-time. You can choose to be paid royalties via Paypal or by check every month.

In addition to offering your products as digital downloads, you can choose to set-up some or all of your products for our print program. Whenever a customer orders your title in print, we print a copy of your book for that order and ship it to the customer. As with downloads, you determine the price of your print titles and receive a royalty on the margin between the selling price and the print cost of the book.


Exclusive or Non-exclusive

We offer two types of publisher accounts. Exclusive accounts offer a higher royalty rate on sales and other benefits in exchange your making our marketplaces the only reseller of the digital products you upload to us.


Exclusive publishers receive a 70% royalty on all digital sales and 70% royalty on the margin (sales price - print cost) on all print sales. They also receive more free promotion on the marketplace.


Non-exclusive publishers receive a 65% royalty rate.


To continue with your publisher account set-up, please select one of the checkboxes below to indicate what type of publisher account you would like and click Continue to proceed with entering your publisher information and review our publisher agreement. You will need to be logged into the site to reach the setup page, so if you are not currently logged in you will be asked to log-in or create a customer account before you are sent to the page.